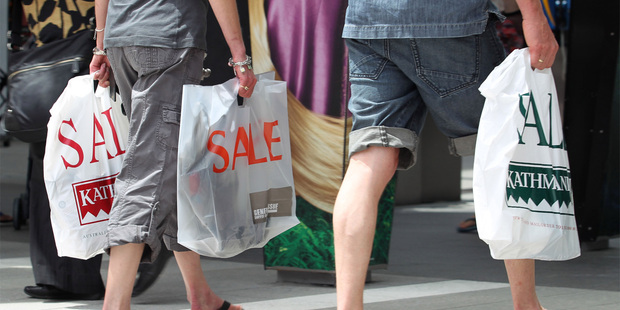 New Zealand retail sales slowed their pace of growth in the first three months of the year as the long, hot summer sapped consumers' appetite to buy more clothing.
The total volume of retail sales rose 0.5 per cent, seasonally adjusted, to $17.62 billion in the three months ended March 31, from a revised quarterly pace of 1.9 per cent in the December quarter, Statistics New Zealand said. That was below the 0.8 per cent pace estimated in a Reuters survey of economists. Actual retail sales volumes grew 3.5 per cent from the same quarter a year earlier.
"Respondents to the retail trade survey told us that he warm, dry start to autumn meant that shoppers held off buying cooler-season clothing and footwear," industry and labour statistics manager Blair Cardno said in a statement.
The kiwi dollar fell to 82.51 US cents from 82.64 US cents immediately before the figures were released.
Earlier this month, sports goods and homeware chain Briscoe Group said the late start to winter put a squeeze on first-quarter margins.
Clothing, footwear and apparel reported the biggest quarterly volume decline in the period, falling 2.4 per cent to $872 million, with values down the same amount to $858 million. Clothing inventories were 7.3 per cent higher than a year earlier at $754 million as at March 31.
Of the 15 industries surveyed, 10 gained in volume terms. Excluding vehicle-related spending, volumes rose 0.6 per cent.
The volume of spending on pharmaceutical and other store-based retailing rose 2.2 per cent to $1.25 billion, and motor vehicle and parts rose 1.1 per cent to $2.34 billion, underpinning gains in the period. The volume of supermarket and grocery spending rose 0.3 per cent to $4.04 billion.
Spending volumes on furniture, floor coverings, houseware, textiles rose 1.6 per cent to $484 million the quarter and hardware, building, and garden supplies increased 1.2 per cent to $1.04 billion. The categories were up an annual 6 per cent and 10 per cent respectively, with the county's property market bubbling in Auckland and Christchurch with an undersupply of housing amid building demand.
The value of spending rose 0.9 per cent, seasonally adjusted, to $17.94 billion, from 1.7 per cent in the December period. Actual retail sales values rose 3.2 per cent to $17.62 billion from the March quarter 2012.
Canterbury was the biggest regional gainer, with actual retail sales up 6.3 per cent to $2.41 billion in the March quarter from a year earlier, followed by Auckland, which rose 4.3 per cent to $5.96 billion. Wellington the only region to record a decline, falling 0.8 per cent to $1.87 billion, its second quarterly fall.
Government figures last month showed increasing discounting among retailers was one of the key ingredients in keeping the annual pace of inflation at 0.9 per cent, just below the Reserve Bank's target band of between 1 per cent and 3 per cent.
Removing the price changes, the volume of sales rose 0.5 per cent.
Last week, Statistics NZ said core retail spending on electronic cards, which strips out spending on fuel and vehicles, rose 1 per cent to a seasonally adjusted $3.54 billion in April, the biggest monthly gain since November, and sixth increase out of the past seven months. Including fuel and vehicle, retail spending gained 0.9 per cent to $4.34 billion in April, the 11th monthly gain in the past 12.