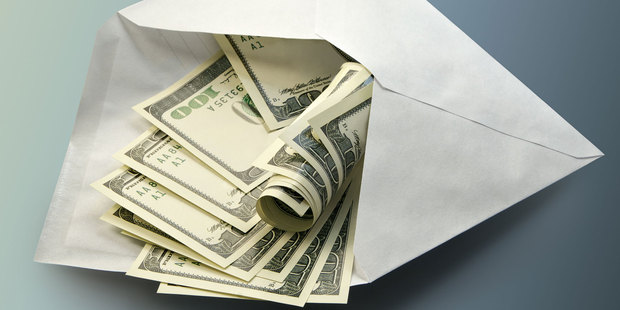 The Serious Fraud Office received a report two weeks ago of a New Zealand individual or company paying a bribe overseas - only the second complaint of this type it has been alerted to in recent years.
SFO general manager of fraud & corruption Nick Paterson referred to the complaint during his presentation at the 2013 Forensic Conference - a symposium on fraud and forensic accounting - in Auckland this morning.
Paterson told the audience that the SFO had received only two complaints of a New Zealand individual or company bribing a foreign official during his time with the fraud watchdog.
One was made just two weeks ago, he said.
"[There was] one last year, one this year. The one last year went nowhere.
The one this year, maybe. It will be extremely hard to investigate. We haven't got much experience, well I mean clearly none, at investigating these sorts of allegations," Paterson said.
After his presentation Paterson could not comment to the Herald on which part of the world the alleged offending related to.
Although no investigation had yet been launched into New Zealanders engaging in this sort of practice, Paterson said "we must be paying bribes".
New Zealanders were doing business in the same jurisdictions as US and British organisations where people were "pinged" for bribery, he said.
"How can we, organisations and individuals, operate in the same jurisdictions and not be paying bribes...it doesn't make any sense," he said.
"The World Bank estimated a few years back that a trillion dollars US of bribes are paid around the world [annually]...There's a trillion US dollars of bribes being paid around the world and none is what we get told are paid by New Zealanders or New Zealand companies. I'm absolutely staggered and actually, worse than that, simply don't believe it," he said.
While Paterson said corruption was a fact of life in New Zealand and across the world, it doesn't need to and shouldn't become a way of life in this country.
"To protect that we're going to have to work pretty hard," he said.
For the last 12 months, he said the SFO had talked about Christchurch and the rebuild going on in the Canterbury region after the earthquakes.
"I'm not saying corruption is rife down there but the potential in Christchurch is enormous. The stats from around the world show again and again post-disaster recovery work, rebuild work such as the work which is going in Christchurch is rife with corruption," he said.
The Forensic Conference is put on by the New Zealand Institute of Chartered Accountants and the New Zealand Chapter of the Association of Certified Fraud Examiners.
It continues this afternoon and tomorrow.