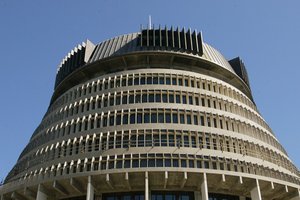 Prime Minister John Key has offered "an unreserved apology'' to any Wellingtonian offended by his comment that the capital city was "dying".
Mr Key this morning backtracked from the comment made to Takapuna business leaders last week after a gloomy report on the region's economy.
"The reality is even Wellington is dying and we don't know how to turn it around. All you have there is government, Victoria University and Weta Workshop," told the business leaders last week, according to Wellington's Dominion Post this morning.
The comments provoked a furore online and on Twitter as Wellingtonians reacted.
"If I've offended them then I unreservedly apologise'', Mr Key told reporters this morning.
Mr Key said he was "just simply reflecting on the 30 years I've been living here, you have seen a lot of the private sector corporate head offices leaving".
"Actually Wellington's an extremely vibrant place; there's lots of things happening here, lots of activity. I should have chosen my words better."
Cities outside of Auckland needed to be seen as attractive options for the establishment and operation of businesses, he said.
"My main point was really there's a lot of sustained pressure on Auckland. We've got to make sure that we have sustained build up of economic activity around the rest of the country, not just Auckland."
Labour leader David Shearer said Mr Key had made a mistake.
"This is absolutely, negatively John Key. It is a vibrant city - anybody who goes down to Courtenay Place on a Thursday or Friday night knows that."
He said Wellington had a great cafe culture, good businesses.
"And if you ask any diplomat who has been working here a while and has come from other posts, they'll say to you that it is one of the best postings they've ever had."
He said Wellington was not alone in having 'stagnant' economic growth.
"What we need to be seeing is the provinces growing and creating jobs. Instead we're seeing a lot of flow to Auckland and particularly to Australia rather than the growth we need to be seeing in the provinces."
- APNZ