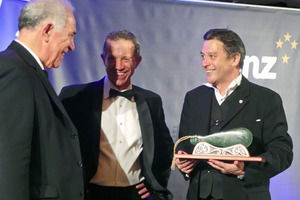 Ian Taylor (right) with Associate Professor Manuka Henare (left), BNZ Partners director Anthony Heal - and the patu - at the award ceremony. Photo / Supplied
Businessman Ian Taylor was forced to stow an award he won as Maori business leader of the year in the hold of a plane because it was categorised as a weapon by security staff at Auckland Airport.
However, his brother was allowed to carry a pocket knife on to the plane.
Mr Taylor, who heads Dunedin-based company Animation Research and Taylormade Media, was bemused when his "beautiful" pounamu patu had to be stored in the hold for the flight from Auckland to Dunedin on Saturday.
The traditional Maori club was presented to Mr Taylor when he was named Maori business leader of the year at the Aotearoa New Zealand Maori Business Leaders' Awards on Friday night.
Mr Taylor said he was not complaining about the apologetic security staff's decree it had to be packed in the hold but he thought it was funny that his brother Guy, who was passing security at the same time, was allowed to board his flight with a pocket knife.
The patu was categorised as a weapon of martial arts, Mr Taylor said.
It arrived in Dunedin safe and sound.