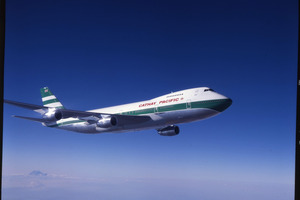 When Cathay Pacific's first plane touched down in New Zealand just on 30 years ago, ticket prices were regulated by the government and, as with all airlines, you could smoke onboard.
The cost of a round-trip ticket between Auckland and Hong Kong was about $970, the equivalent of just over $3000 in today's money. It is now possible to fly the same route for half that amount.
While Cathay opened a New Zealand office in 1974, the first of its planes landed on May 4, 1983, six months after a joint venture started with Air Niugini and Air New Zealand.
Captain Ian Steven, a New Zealander, was at the controls of a Boeing 747-200 - wearing the old green and white so-called "lettuce leaf" livery on its tail - which was greeted by a Maori welcome and receptions in Auckland and Wellington.
As part of the tripartite arrangement, Air New Zealand operated for six months, with Cathay Pacific operating the next period, followed by Air Niugini.
The flight had a brief stopover in Port Moresby, but passengers stayed on board as the transit lounge at the airport was not large enough to handle all of them.
The joint venture lasted for eight years although Air New Zealand and Cathay are back working together in a new code-sharing agreement between Auckland and Hong Kong.
Cathay has also picked up Air New Zealand's loss-making Hong Kong-London route as part of the deal which came into force at the end of January.
Former manager for New Zealand and the Pacific Islands David Figgins said government efforts at price control didn't last long here, but airlines that did try discounting faced fines from the airline industry group, the International Air Transport Association, until around the mid-1980s.
He said the arrangement with the other two airlines had its frustrations but got easier as Cathay got bigger. But as more airlines flew here, marketing plans had to be changed every few months rather than once a year, as price wars broke out.
The airline will mark its 30th anniversary with a ceremony at Auckland Airport this Friday.
Dominic Perret, the general manager for Cathay in the southwest Pacific, said 30 years was an exciting landmark. "It reflects a lot about Cathay and how we operate.
"As an airline we take a long-term view - when we start flying to destinations we stay committed to them and work hard to grow the market over time," Perret said.
It was expensive to set up new routes.
"Once you go in, you want to make sure you stick around."
He said over the coming months the airline would be bedding down its relationship with Air New Zealand, which he said was showing promising early signs.
It will also install 28 premium economy seats on A340s flying the Auckland-Hong Kong route this year.