High-profile 'gateway site' into Auckland CBD virtually new with five-star green rating.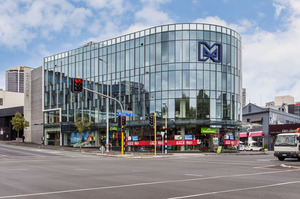 The headquarters of failed construction firm Mainzeal is back on the market for sale or lease.
The 2701sq m building on the corner of Victoria St and Wellesley St in the Auckland CBD is being marketed by Colin McKenna and Bill Fenton, of Bayleys Auckland, under instructions from the receivers, PwC.
Expressions of interest for either the sale or lease of 220 Victoria St close on Thursday, June 13.
With the departure of Mainzeal as lead tenant on the top three floors totalling 2120sq m, the outdoor equipment and clothing chain Kathmandu is the sole tenant. Kathmandu occupies the retail premises on the ground floor and has a six-year lease that commenced in June last year.
"The financial dynamics for this building are obviously far different now to what they were in December last year. As such, the potential buyer or lessee scope for the property has widened considerably," McKenna says. "There is, for example, the potential to walk into the former Mainzeal premises and purchase all the fixtures, fittings and furniture, which are virtually new with Mainzeal only taking up occupation of the commercial offices late in 2012."
Auckland Council recently identified the building as a high-profile "gateway site" into the CBD. The triangular-shaped premises has a big street frontage at the traffic lights connecting Victoria St with Beaumont Quarter and Freemans Bay. Victoria Park is directly across the road. Permitted activities for the site include accommodation, office and retail space.
The building comes with 56 car parks. Amenities include a 14-person lift, secure bike parks, showers and locker rooms. It was built to "spec" for a five-star green rating. A number of initiatives were employed to achieve this standard - including replacement of the facade with a full-height double-glazed curtain wall system, and installation of argon-filled window glass to achieve a high level of solar-energy control.
Fenton says all building services within the block were replaced in the 2012 refurbishment - including the central air-cooled air-conditioning system, solar-assisted hot water, low-energy lighting, electronic security and fire alarms.
A recent seismic rating for the property shows strength at 142 per cent of code, an A plus structural grade, which has proved attractive to investors or occupiers conscious of the flow-on effects of both bank lending and insurance coverage as a result of the Christchurch earthquakes.
"With the exit of Mainzeal, the possibilities for a multiple tenancy are now far greater. Several smaller companies could lease out onefloor each, for example," Fentonsays.
"Alternatively, the property could be purchased by an owner occupier looking for a highly visible naming rights location sitting at a pivotal intersection overlooking two busy CBD fringe roads, with the added benefit of an existing tenant generating rental income."
Several high-profile leasing deals have been signed for office blocks in the immediate vicinity. Technology company Oracle NZ and credit card transaction business Paymark have both leased floor space at 162 Victoria St, just a few hundred metres from the former Mainzeal building.
"Properties such as the former Mainzeal House are becoming more sought after," Fenton says, "particularly those with high earthquake compliance ratings."
On the block
On offer: For sale or lease former Mainzeal HQ building.
Address: Cnr Victoria St and Wellesley St, Auckland CBD.
Agents: Bayleys Auckland.
Method: Expressions of interest closing Thursday, June 13.
Features: High-profile location. Possibility of multiple tenancies.