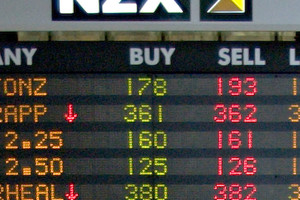 NZX 50 has gained 11.6 per cent this year with turnover of $116 million yesterday
New Zealand shares rose, nudging the NZX 50 Index to a new record, as investors continued to bid up the future earnings potential of Diligent Board Member Services and Xero. Sky Network Television continued its run unfettered by News Corp.
The NZX 50 rose 9.72 points, or 0.2 per cent, to 4548.71, continuing the ascent of the gross index created in 2003.
Within the index, 24 stocks rose, 18 fell and eight were unchanged. Turnover was $116 million.
The index has risen 11.6 per cent this year.
Xero rose 6.2 per cent to $13.80, the second-highest price on the NZX 50 after Port of Tauranga, valuing the company at $1.62 billion. Xero is up 15 per cent in the week.
Diligent, which has attempted to clean up discrepancies in its chief executive's options, gained 5.3 per cent to $7.50 - a 12-month gain of 103 per cent.
The NZX 50 rose even as major stocks Fletcher Building, Telecom and Contact Energy fell. Fletcher shed 0.6 per cent to $8.66, Telecom fell 1.7 per cent to $2.565 and Contact declined 0.6 per cent to $5.35.
OceanaGold, one of the most volatile stocks, rose 9.6 per cent to $2.62. Gold rose US$7.30 an ounce to US$1474.29 in Asian trading.
Sky TV rose 2.2 per cent to $5.58 and is up 11 per cent this year.
Delegat's Group was unchanged at $3.78. Yesterday the winemaker said it had bought the assets of Australia's Barossa Valley Estate out of receivership for A$24.7 million, just two months after snapping up the distressed vineyard and winery assets of Matariki Wines and Stony Bay Wines.
Ryman Healthcare advanced 0.9 per cent to $5.73.
Shares in alternative milk marketer A2 Corp jumped 7.9 per cent to 68c after government figures showed China was now New Zealand's biggest export destination, ousting Australia. A2 this week announced the start of sales in the world's most populous nation.
Trade Me gained 0.4 per cent to $5.01 after French banking group BNP Paribas emerged as a substantial shareholder in the online auction site. The French bank holds 5.3 per cent of Trade Me, according to a filing to the ASX.