Temporary staff offered permanent placements as airline vows no redundancies.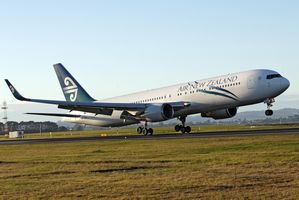 After posting a massive half-year profit, Air New Zealand is proposing reducing the cabin crew complement on some flights.

Documents obtained by the Herald on Sunday outline the airline's plans - including reducing cabin crew complement on many 767 flights.

"Our cost base is up to 20 per cent higher than some of our key competitors. We need more crew flexibility to respond to market changes," the company told cabin crew on Wednesday.

It said it would avoid redundancies but the documents suggest it would offer permanent roles to all temporary staff and offer all cabin crew opportunities in newly created roles.

"Sitting back and doing nothing is simply not an option for us any more," said new cabin crew general manager Leeanne Langridge.

Air New Zealand posted earnings before tax of $139 million for the six months to December, up from $33 million a year before, its best half-year result in five years.

A spokeswoman told the Herald on Sunday there would be no job losses. "No one is reapplying for their job," Marie Hosking said. "We will end up with more full-time cabin crew than we have currently.

"In essence, Project Choice [the name given to the plan] creates the ability for more efficient rostering."

Hosking said the airline will offer all temporary flight attendants permanent jobs. She said a bigger fleet would naturally lead to more cabin-crew positions. A Project Choice "information pack" advised staff to "engage in the change" and realise they "have no control" over some things.

A subsequent email indicated Project Choice had already affected staff morale. "My management team has already engaged with a small number of crew members who attempted to bully colleagues," Langridge told staff on Friday.

"This is a serious employment matter and will be treated as such.
It's probably also worth reminding you all that our crew arrangements are not an appropriate topic of discussion with our passengers."

Project Choice documents said the new Tasman Pacific B767 crew group would have seven crew, one fewer than the current complement.

There would be reduced use of temporary and seconded staff across all cabin-crew groups. Employment agreements for temporary staff would likely end in September as they are offered permanent positions.

The documents said job openings are available, but only in the Airbus A320, 767 and Dreamliner groups.

The Engineering, Printing and Manufacturing Union, which represents some cabin crew, held meetings with members this week. Aviation organiser Strachan Crang said it would work through the issues involved with the company.

Last month, the airline was named New Zealand's most attractive employer brand to jobseekers.