Opposition parties' plans for cheaper energy hit TrustPower and others.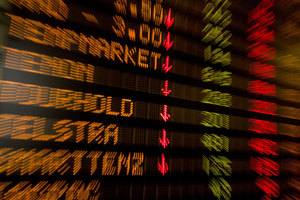 New Zealand shares rose as Ryman Healthcare hit a new record and Sky Network Television gained, helping to offset a slide in TrustPower and Contact Energy in the wake of the Labour-Greens plan to slash power prices.
The NZX 50 gained 2.40 points, or 0.1 per cent, to 4444.50. Twenty-four stocks fell, 16 rose and 10 were unchanged. Turnover of $226 million was boosted by higher-than-usual volumes of Sky TV and Ryman.
Ryman, which is rated "outperform" in a Reuters analyst poll, rose 3.4 per cent to $5.71 as 6.1 million shares traded. The retirement village operator's stock is up 78 per cent in the past year.
"Ryman is the best of both worlds with ... exposure to baby boomers and healthcare, coupled with rare exposure to the New Zealand housing market, which is benefiting from the benign interest rate environment," said James Schofield, vice-president equity research at First NZ Capital.
Rest home rival Metlifecare rose 0.3 per cent to $3.23 and has gained 39 per cent in the past 12 months.
Sky TV rose 1.5 per cent to $5.44 and was the most heavily traded stock on the NZX on value of trading. The pay-TV company is benefiting from having shed its former 46 per cent owner News Corp, bolstering the pool of shares available to trade.
OceanaGold, operator of the Macraes gold field, rose 7.7 per cent to $2.25, recovering from a selloff as spot gold gained from a two-year low. NZ Oil & Gas rose 1.2 per cent to 83c.
Telecom, often held for its relatively attractive dividends, rose 1.8 per cent to $2.53. At yesterday's price it has a dividend yield of 14.97 per cent. Chorus, the network company, fell 0.4 per cent to $2.64.
Warehouse Group, the biggest retailer on the exchange, rose 1.9 per cent to $3.80. Restaurant Brands rose 1 per cent to $2.98.
TrustPower, which is 50.7 per cent owned by Infratil, fell 5 per cent to $7.18, leading decliners as fallout from Opposition plans to centralise electricity buying and split generators from their retail arms weighed on utilities. Contact Energy fell 2.8 per cent to $5.31 and lines company Vector fell 2.1 per cent to $2.82. Infratil dropped 1.3 per cent to $2.30.
Fletcher Building fell 0.4 per cent to $8.41.