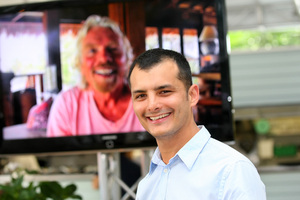 Snakk Media, the digital advertising firm founded by tech entrepreneur Derek Handley, has appointed a group chief executive.
The company, which floated on the NZAX last month and has technology that helps companies get their advertising in front of smartphone and tablet users, said Mark Ryan had been made group chief executive.
Ryan, who will be based in Sydney, has been executive director of Snakk Media in Australia for the past 12 months.
"Mark has more than 16 years business management experience with a strong record of achievement throughout leadership, accelerated growth and restructuring roles in a mix of international, Asia-Pacific and Australian businesses," the company said.
"These organisations have included private and public technology, digital services, advertising agencies and new media companies."
Before joining Snakk, Ryan was Ogilvy Australia's chief operating officer.
Last month, Snakk Media said its revenue had doubled in the last three months of 2012 compared with the previous year.
Unaudited revenue was $1.439 million for October to December - up from $686,000 in the last quarter of 2011, the company said.
Shares in Snakk Media, which listed at 6.5c, closed at 15c yesterday.