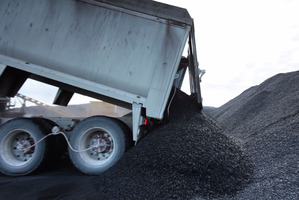 The West Coast is about to lose Solid Energy's sponsorship, which has brought almost $10 million into the region over the past 11 years.
Solid Energy stakeholder engagement manager Kath Low said that between 2001 and the end of June 2012, Solid Energy spent $15.3m on sponsorship nationally, including about $9.94m on the West Coast.
The national sponsorship included $9.62m in grants of $100,000 and over, of which $6.52m had been spent on the Coast.
The Coast sponsorship equates to around 65 per cent of the national total.
Ms Low said it was unlikely Solid Energy would be able to provide funding during the 2013/2014 financial year.
"As a result of the company's current financial situation, Solid Energy is exiting all our sponsorship commitments as soon as we can do so contractually.''
The Canterbury West Coast Air Rescue Trust Inc, which administers the Solid Energy Rescue Helicopter, the Westpac Rescue Helicopter and the New Zealand Flying Doctor Service, is among organisations hit by the sponsorship cuts.
Solid Energy would not renew the trust's sponsorship when it expired on December 31 this year, said Canterbury West Coast Air Rescue Trust marketing and communications manager Bridget Neill.
Solid Energy had contributed about $1.85 million to the trust over 12 years of sponsorship.
Ms Neill said the trust would definitely continue providing an air rescue service throughout the West Coast.
It was currently looking to secure a new naming rights sponsor, and was working through a list of possibilities.
It was confident it would secure naming rights sponsorship.