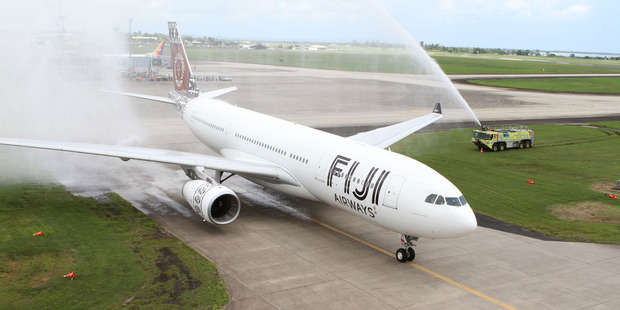 Air Pacific's new Airbus A330 made its maiden commercial flight to New Zealand today, offering plane enthusiasts a preview of the airline's refreshed branding.
The $240 million, wide-body aircraft touched down at Auckland International Airport at about 1pm, after being welcomed into Nadi two weeks ago.
Air Pacific chief executive Dave Pflieger said today's "sneak preview" flight reflected the fact that New Zealand was one of the airline's most important markets.
"New Zealand is an essential part of our global network, and we are excited to be replacing our venerable B747s with new state-of-the art A330 aircraft."
Air Pacific flies tens of thousands of Kiwis and locally-based Fijian nationals to the islands every year, he said.
The Fijian national carrier is being officially renamed Fiji Airways in June and the A330 is the first of three ordered which will carry the new livery.
"Our new planes and stunning new branding is already a great source of pride among the Fijian community, in Fiji and here in Auckland," Pflieger said.
The re-brand is part of a turnaround plan for the 60-year old airline, which reported an operating profit of $11.5 million for the year to March 31 2012, compared with an operating loss of $2.6 million for the previous financial year.
Last seen in 1970, the Fiji Airways brand will be rolled out across ticket offices, check-in counters, airport lounges and uniforms by the end of this year.
Pflieger described the look as "authentic, distinctive and true" to the Fijian culture and heritage.
The second and third A330s are scheduled to arrive in May and November, with the current, less efficient fleet of Boeing 747s being retired later in the year.
Fiji Airways will be operating daily connections from across 17 domestic New Zealand cities to feed into international flights for Auckland to Nadi.
The airline will fly 13 flights a week from New Zealand to Fiji this year.
When the Airbus A330 landed in Fiji two weeks ago, it was the end of an 18-month journey from order to delivery. The plane travelled from Airbus' facility in Toulouse, France, via Hong Kong.
With Fijian President Ratu Epeli Nailatikau on-board, the plane performed a fly-over of Fijian cities and islands prior to landing.
Hundreds of dignitaries, business partners and residents greeted the flight's arrival.
The aircraft is named after one of Fiji's 333 islands, Taveuni, which is known as 'The Garden Island.'