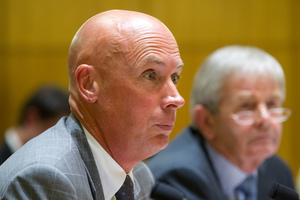 Former Solid Energy chief executive Don Elder will pocket more than $250,000 from the indebted state-owned miner while he remains on its payroll for another four months.
Dr Elder resigned from Solid Energy in February, before the company was revealed to be tottering under a $389 million debt.
He has been criticised for continuing to receive his $1.3 million annual salary while he works from home in an advisory role.
That work is due to end next week, but Radio New Zealand today reported Dr Elder would continue to be paid for the rest of his notice period.
He will receive four months' base salary, worth $253,000, from next week until August.
Labour state-owned enterprises spokesman Clayton Cosgrove said Dr Elder was getting a "big chunk of dough" from the taxpayer for doing nothing.
"Add that to his entitlement, add that to the two months' gardening leave, and I think the estimate is between $400,000 and $500,000 to leave.
"You've got to question the rationale around that, you've got to question those who said he's getting no more than his entitlement."
Mr Cosgrove said the payment was dressed up as a notice period, but was in effect "a golden handshake".
Solid Energy strategy and corporate affairs manager Bill Luff said the payment was for the balance of Dr Elder's notice period.
"Dr Elder confirms he will continue to assist the company during this notice period and beyond if requested and able to," he told Radio New Zealand.
He would not comment further, citing confidentiality.
* Read the Herald's live news blog here.
- APNZ