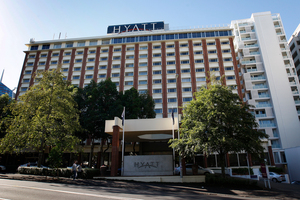 Auckland hotels have had a year of steady trading with leisure, corporate and conference business returning to normal patterns following Rugby World Cup in 2011.
Tourism Industry Association figures released yesterday showed last year was a year of gradual stabilisation in occupancy and rates for many regions.
"After a very eventful 2011 with the Rugby World Cup and the Christchurch earthquake changing visitor flows significantly, 2012 was relatively uneventful. This offered hotels an opportunity to adjust to the new post-GFC business environment of shifts in visitor markets, the increasingly short-lead nature of bookings and people remaining very price conscious," TIA hotels sector manager Rachael Shadbolt said.
An association survey showed Auckland's 37 association hotel members had a 75.6 per cent occupancy rate, down 1.6 points compared to 2011 and the second highest occupancy of all members after Christchurch. This was above the national occupancy of 69.9 per cent.
Auckland hotels achieved the sixth highest average room rate of the eight hotel regions at $136, down $21.60 on 2011, but up $2.93 on 2010, which she said was a better comparison given it was a year when there was no big event.
Member hotels in Auckland generated over $390 million in revenue from a total of 6885 rooms and employed almost 4200 people.
Another 700 rooms were added to the city with the opening of three new hotels in time for the Rugby World Cup.
"It is heartening to see that occupancy has been maintained and average room rate has grown when compared to a more normal 2010."
Shadbolt said signs were good in the first part of this year with New Zealanders making the most of the hot summer and an influx of visitors from China for the Chinese New Year.
Christchurch achieved the highest annual occupancy of 81.6 per cent, down 3.4 points on the previous year.
New Zealanders take up 55 per cent of all rooms sold, followed by Australians on 16 per cent.