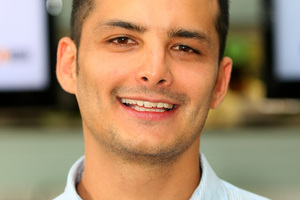 Tech entrepreneur Derek Handley's newly listed Snakk Media more than doubled its revenue in the last three months of 2012 compared to the previous year.
Snakk listed on the NZAX on March 6 and today said its unaudited revenue was $1.439 million for October to December - up from $686,000 in the last quarter of 2011.
The company had revenue of $1.99 million for its last full financial year to March 31, 2012.
Chairman and co-founder Derek Handley said Snakk had achieved significant financial growth in less than two years.
"The third quarter results we've announced today show we are continuing our upward growth trajectory."
Snakk Media helps companies get their advertising in front of smartphone and tablet computer users.
The company raised $750,000 from investors last year and is planning to raise more capital this year through a share purchase plan.
Handley said details of the plan, which will only be available to those who own Snakk shares prior to the offer opening, would be available next month.
Funds from the plan will be used to expand the company into new regions, grow the sales team, add new technology platforms and explore investment opportunities.
Shares in Snakk last traded at 16c.