Judge orders Australian businessman to serve sentence in New Zealand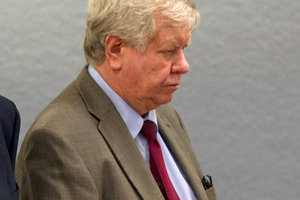 It was a fall from grace yesterday for Member of the Order of Australia Colin Ryan as he was sentenced to seven months' home detention in New Zealand for making false statements in the Capital + Merchant Finance's offer documents.
The 66-year-old Brisbane businessman appeared in the High Court at Auckland yesterday, after he pleaded guilty last month to two charges of making an untrue statement in a registered Capital + Merchant prospectus and one charge of distributing advertisements which included an untrue statement.
The Australian's lawyer - David Jones, QC - said Ryan and his fellow guilty Capital + Merchant director Robert Sutherland had "unblemished records".
Even the Crown prosecutor in the proceedings, brought by the Financial Markets Authority, said it was astonishing for the men to be before the courts, given their history of service and performance.
It was accepted that Ryan and Sutherland had honestly believed the false statements were true, but it was ruled they did not have reasonable grounds for this belief.
Ryan has held a long string of positions on Queensland companies and according to his profile on the Australian Stock Exchange he is the former chairman of Brisbane Airport Corporation and former deputy chairman of Port of Brisbane.
When sentencing him to seven months' home detention, 300 hours' community work and to pay $100,000 in reparations, Justice Geoffrey Venning said Ryan had come to court with "glowing references" and described him as a "very experienced businessman".
Australian media reports in 2011 said Ryan was forced to quit from the Royal Children's Hospital Foundation when the original charges from the Securities Commission over the Capital + Merchant documents emerged.
The court heard yesterday how Ryan, who has a rare medical condition, had also helped set up the Queensland Children's Medical Research Institute.
He was chairman of the board of the Royal Children's Hospital in Brisbane from 1983 until 2011 and awarded the Order of Australia in 2004 for services to children's health.
Ryan is still the executive chairman of automotive-parts manufacturer CMI.
The Herald called CMI yesterday to inquire whether the guilty director would keep his position in light of his sentence, but it did not return calls.
Justice Venning acknowledged that home detention for Ryan, who has no close friends or relatives in New Zealand, would be more difficult than usual but said: "You must serve a sentence of home detention in New Zealand. Your offending has affected a number of citizens in New Zealand."
Describing the fallout from the C+M collapse, the judge read out snippets from victim impact statements. These described the trauma and depression experienced by some of the 7500 investors who lost $167 million in the Capital + Merchant collapse in November 2007.
Former C+M chief executive Owen Tallentire was also sentenced yesterday. Tallentire, 65, is already serving a sentence of five years' imprisonment for theft by a person in a special relationship from charges in a C+M case brought by the Serious Fraud Office. He also pleaded guilty to the FMA charges and Justice Venning added an extra year to his sentence yesterday.
Sutherland received a sentence of six months' home detention, 300 hours' community work and was ordered to pay $60,000.
Ryan has also been charged on allegations he wilfully deceived the Securities Commission, the FMA's predecessor.