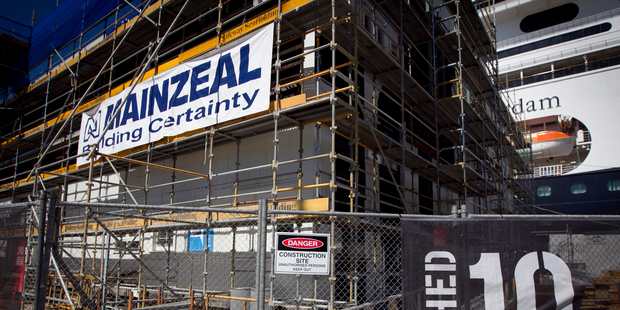 Most sites being worked on by Maizeal prior to its collapse last month have now been handed back to their clients, according to receiver PricewaterhouseCoopers.
Hope remains that the collapsed company's subcontractors and staff will now be re-hired to work on the various projects.
Mainzeal Property and Construction, which was New Zealand's third largest construction firm, went into receivership on Waitangi Day leaving workers and subcontractors locked out of about 40 worksites.
PwC partners Colin McCloy and David Bridgman said in an update today they had "made good progress" with what was a "large and complex receivership".
Assessments were being undertaken of each of Mainzeal's projects, which the majority of clients had chosen to complete using other contractors.
"We have therefore handed most sites back to Mainzeal clients, in a controlled manner, and we are reaching settlements in respect of those contracts," McCloy said.
"In the meantime, we are completing a relatively small number of selected projects through Mainzeal.
"With the progress to date, it is hoped that Mainzeal subcontractors and staff will have a prospect of being re-hired on various jobs."
About 1000 subcontractors are thought to have been working for Mainzeal at the time of its collapse.
One of those was crane company Smith Cranes, which was subcontracted to Mainzeal to demolish the QEII stadium and Clarendon Tower in Christchurch.
Managing director Tim Smith said the company was owed about $1.6 million for work done in December in and January.
It had now been rehired by the Canterbury Earthquake Recovery Authority (CERA) as the main contractor, in Mainzeal's place, to continue demolishing Clarendon Tower.
"We were signed up about a week ago for that," Smith said.
Similarly, it had now been brought on to finish QEII stadium and Smith said he hoped other "subbies" would be rehired to finish jobs as well.
McCloy acknowledged that the situation had been "trying" for all parties involved.
"This receivership represents an extremely disappointing end for what has historically been a well recognised brand in the New Zealand construction sector, and we appreciate the impact of this receivership on all stakeholders."
PwC was in the process of trying to sell a group of partially completed houses and sections in subdivisions around Christchurch and was in talks with interested parties, McCloy said.
The partners were working with a team of about 40 Mainzeal staff around the country.
"The receivers are now focused on realising Mainzeal's property assets, realising items of plant and equipment, reconciling obligations to subcontractors, suppliers and staff, and addressing a range of other matters.
"The receivers are also working with the Liquidators appointed to Mainzeal, assisting them with their reporting requirements and other statutory obligations."
Fletcher Building chief executive Mark Adamson last month indicated his company was considering finishing off some of the 40 jobs to keep subcontractors from going bust.
Some of the biggest jobs which have been frozen include the Manukau Institute of Technology job, Princes Wharf's Shed 10 and earthquake repair work in Christchurch.
"We'd look to complete the jobs but we have to be careful. It's a bit of a minefield. We're working closely with [receiver] PwC. We're extremely keen to try to see these projects to completion because the Government are our customers as well," he said.