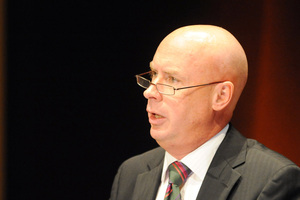 Prime Minister John Key and his State Owned Enterprises Minister Tony Ryall say they have no problem with former Solid Energy boss Don Elder appearing before a select committee to answer questions about Solid Energy's problems.
Opposition MPs are calling for a vote to issue a subpoena forcing Dr Elder to front to Parliament's Commerce Committee, and they also want an inquiry into the company's problems including debts totalling $389 million.
Talking to reporters in Chile earlier today (Fri), Mr Key said whether Dr Elder appeared before the committee was a matter for Solid Energy's board, but he was "relaxed "about whether or not that happened."
"If he wants to go and they [the board] want him to go, he's not going to get any opposition from my office."
Mr Ryall said whether or not Dr Elder appeared "is a matter for the Committee, Solid Energy and Dr Elder, and I don't have a problem either way".
Labour State Owned Enterprises spokesman Clayton Cosgrove today said he would write to committee chairman Jonathan Young to request an inquiry and to issue a subpoena to Dr Elder, if necessary.
Mr Cosgrove said he understood Dr Elder was paid out $1.5m in addition to his annual salary of $1.3m.
Current Solid Energy chairman Mark Ford appeared before the committee yesterday with interim chief executive Garry Diack, but neither man was able to answer most of the questions put to them.
Mr Ford said it was unusual for former chief executives to appear before the select committee, but said he would not stand in the way of Dr Elder appearing in front of the commerce committee. He went as far as to say he would clear Dr Elder to speak about any payout he received.
Mr Ford confirmed Dr Elder was "working from home" in a consultancy capacity and was receiving full pay. He is due to finish with the company on April 1.
"It's called risk management. I needed to have access, or the company needed access, to Don's memory to have a very smooth transition."
Dr Elder did not receive a severance payment but would receive his entitlements under the terms and conditions of this contract, Mr Ford said.
When asked how much the entitlements were, he said: "If Dr Elder was happy for us to report his salary, I am more than happy to disclose what it is".
Dr Elder headed Solid Energy for 12 years, but resigned on February 4. A fortnight after his resignation the Government revealed the company was carrying $389m in debt, and was in talks with bankers and Treasury.
He is still being paid his old salary of $1.3m a year to work from home for a two month period.