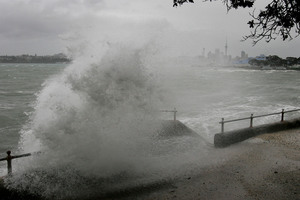 A tropical cyclone and three other heavy rain patterns are expected to position themselves above New Zealand this weekend but it is unlikely any will bring much-needed rain to drought-stricken areas.
WeatherWatch.co.nz analyst Philip Duncan said tropical weather had "roared into life" in recent days and long-range models indicated "plenty of activity north of us over the next few weeks".
"By next Monday there could be as many as four tropical lows north of New Zealand, one likely to be a tropical cyclone," Mr Duncan said.
"But despite all this mounting pressure to bring rain, to northern New Zealand especially, the highs over us maintain the strength to hold back these plump rain-makers."
Mr Duncan said the high pressure systems over the country would drop south towards the end of March and would result in "increased chances of rain moving into northern New Zealand".
He said forecasts for the forming cyclone were conflicted with some models suggesting it will "drift down the Queensland or even New South Wales coastlines".
The chances of the weather system from an ex-cyclone reaching New Zealand were becoming slimmer, Mr Duncan said.
"This is a tough weather pattern we're in. In every case it's a battle to see who will win, the high or the low, and so far this year the highs have been winning almost every fight. The law of averages says this can't continue forever," Mr Duncan said.