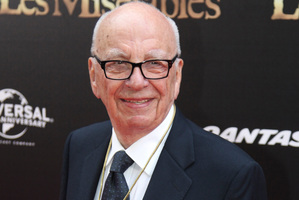 Rupert Murdoch is planning to create a national cable sports network in the United States to compete with ESPN.
The New York Times reports the News Corp chief executive will use existing contracts to stock his new sports network with games.
But two decades after shaking up the sports broadcasting world by acquiring NFL rights, Murdoch has plans to challenge ESPN head-on and claim some of the lucrative revenue that the sports media giant has had largely to itself for more than three decades.
Fox will announce its intention to start Fox Sports 1, an all-sports network, in August.
The channel will carry Nascar races, Major League Baseball games, college basketball and football, soccer and UFC fights.
Murdoch's effort is a long shot to topple ESPN, or at least take a huge bite out of it. ESPN brings in more than US$6 billion ($7.2 billion) annually from its industry-high subscriber fees.
It owns the rights to televise Major League Baseball, the NFL, the NBA, Nascar, tennis, myriad collegiate conferences, the Bowl Championship Series and its new playoffs, and a raft of other sports.
Both ESPN and ESPN2 have 98.5 million subscribers.