Negotiations under way could also give Air New Zealand access to wealthy Gulf state.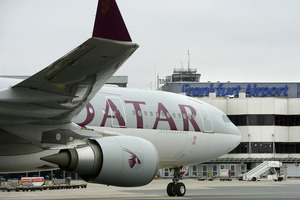 Negotiations this month could allow Qatar Airways, one of the fastest-growing airlines in the world - to fly to New Zealand.
Ministry of Transport officials are meeting their counterparts from the Arab nation with the aim of establishing formal air links between the two countries.
A ministry spokesman said Qatar had approached New Zealand last year and it had been determined that it fitted within this country's open skies policy framework. If negotiations are successful and the Government approves, a formal treaty could be signed.
"From our point of view if it's an open skies agreement then they can fly from wherever through wherever to any airport where they can reach an agreement," the spokesman said.
"We want to have as few restrictions as possible and then it's up to Qatar Airways to talk to New Zealand airports."
It would be a two-way agreement which could allow Air New Zealand to fly to Qatar.
The talks with Qatar are the only air service agreement negotiations on at present.
An Auckland Airport spokesman said there had been an approach from Qatar Airways several years ago but nothing had come of it.
While Qatar would be mindful of Emirates' strong presence here, there were a number of Middle Eastern and Chinese airlines that were expansionary and scoping opportunities outside of traditional routes and hubs.
"There's a number of airlines with indications of intent but they're not at the advanced business case stage."
Qatar Airways started flying in 1993 and says it has built up a fleet of 120 aircraft with orders for a further 200 planes worth $36 billion. It pitches itself as a premium carrier based on a modern fleet and full service although one of its most recent additions, the Boeing 787, remains grounded.
Its global network spans key business and leisure destinations across Europe, the Middle East, Africa, Asia Pacific, North America and South America, with scheduled flights operating to and from its hub in Doha, Qatar's capital.
Qatar has a population of about two million and, based on oil and gas revenue, is one of the wealthiest countries in the world per head.
With other government-owned Middle Eastern airlines, Emirates - which flies four daily flights from New Zealand - and Etihad Airways, Qatar's hub is challenging traditional ones in London, Paris and Amsterdam. The key to the airlines' rapid growth is geography.
Their hubs in Qatar and the United Arab Emirates are an eight-hour flight away from two-thirds of the world's population, including a growing middle class in India, China and Southeast Asia that is eager to travel.
In the past five years, the annual number of passengers travelling through Dubai International Airport, home to Emirates, has jumped from 28.8 million to 51 million, a 77 per cent increase.
"Everybody accepts that the balance of global economic power is shifting to the east. The geographic position of the Gulf hubs makes them much more relevant today," said Willie Walsh, chief executive of International Airlines Group, the parent company of British Airways and Iberia. additional reporting AP