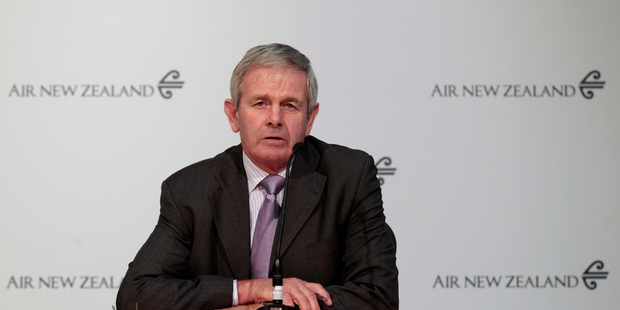 The former chairman of financially troubled Solid Energy approved a big pay rise for chief executive Don Elder in one of his last acts in the job, Labour claims.
The allegation, made in Parliament, came as finger-pointing between the Government and the Opposition continued yesterday over who allowed Solid Energy to embark on alternative energy investments now seen as huge blunders.
The Government had hoped to raise as much as $850 million from the partial sale of the company, which Prime Minister John Key now says may be worth nothing.
After yesterday being forced to defend his public endorsement of Solid Energy's investment in lignite processing back in June 2011 - just a few months before learning of the company's growing problems - Mr Key and his ministers faced a string of Opposition questions about the affair in Parliament.
Labour's Clayton Cosgrove asked State-Owned Enterprise Minister Tony Ryall whether it was correct that former chairman John Palmer, immediately before his official departure last year, signed off on a new contract for chief executive Don Elder "which included a substantial salary increase, and as such led to a far larger amount of taxpayers' money being spent on the chief executive's severance package?"
Mr Cosgrove also asked why Mr Ryall took "no action" to address problems at the company despite receiving monthly reports on it from June last year onwards.
Mr Ryall said Mr Cosgrove's allegations were not correct.
He earlier told Parliament that when ministers became aware of Solid Energy's problems in late 2011, "we took the appropriate steps to address the issues that were raised.
"The company now has a new chair and new board, and we are currently dealing with the banks to resolve those issues."
Mr Palmer, who is now in his final few months as Air New Zealand chairman, has remained silent on Solid Energy's problems since they were revealed last week.
He announced his resignation in June last year and officially stepped down on August 31 - the same day he fronted the company's announcement of a $40 million loss. His departure came 16 months ahead of schedule.
Dr Elder resigned at the beginning of this month, 2 weeks before the Government revealed Solid Energy was $389 million in debt and was trying to stitch together a restructuring plan.
Mr Key yesterday listed steps Solid Energy took to diversify away from simple coal production which were made under the previous Labour Government.
But Labour leader David Shearer said Mr Key needed to "man up and take responsibility for the collapse of this company".
With the partial sale of Solid Energy off the agenda for the time being, Mr Shearer said there was now no way the Government could make the $5 billion to $7 billion from the mixed ownership model.
Finance Minister Bill English said the proceeds from the programme may have to be revised downwards in the Budget.
Mr Key later told Parliament that based on 2011 estimates the sale of 49 per cent of Solid Energy would have raised $680 million to $850 million.