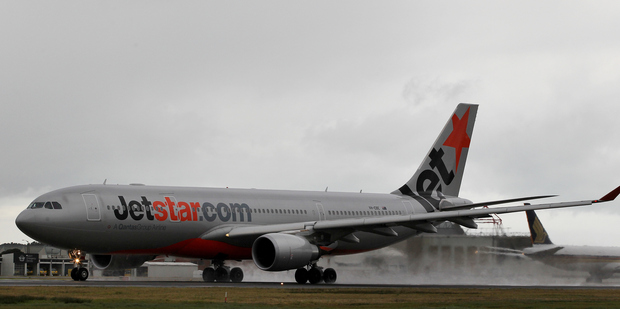 Jetstar figures show it is nibbling into Air New Zealand's dominance of domestic routes, increasing its market share from just under 20 per cent to 22 per cent during the past year.
The Qantas subsidiary says it would like to increase its share of the market to 30 per cent "depending on economic conditions" but is coy on whether it is profitable in this country.
The airline put a ninth Airbus A320 into New Zealand late last year and this had helped win more of the market, said David Hall, Jetstar's chief executive of Australia and New Zealand. According to operational data released last week, load factors increased by more than 4 per cent to 80.8 per cent during the last six months of 2012 compared to the corresponding period.
"Growth is being absorbed by the market which is tremendous and we're on track for carrying two million Kiwis [in 12 months], he said.
"It reaffirms the fact our strategy is working - rather than cannibalise our competitor it really is about stimulating growth."
Auckland Airport figures bear this out. Domestic passenger numbers grew 7.2 per cent during the last six months of 2012 to 3.35 million.
The airport attributes this to extra capacity put on by Air Zealand and Jetstar and competitive fares on offer.
Air New Zealand figures for January showed its domestic demand shown by revenue passenger kilometres increased by 5.4 per cent and capacity increased 5.7 per cent. Domestic load factors dipped though by 0.2 of a percentage point to 83.6 per cent.
Last week the Jetstar group reported underlying earnings of A$128 million ($158 million), down from A$147 million year-over-year, reflecting domestic market conditions and start-up investments in Jetstar Japan and Jetstar Hong Kong.
Asked whether the airline was profitable in New Zealand, Hall said: "We're certainly here for the long-haul and when you bring capacity in you're stimulating markets. There's an investment but we're very comfortable with our position and in line with our forecasts. We don't separately disclose the performance of any routes but it is in line with where we thought it would be."
The airline scaled back flights to Christchurch but there were signs that market was recovering.
Hall said services to the city would be reviewed in about a year.
Jetstar flies 400 domestic and 100 international flights each week.