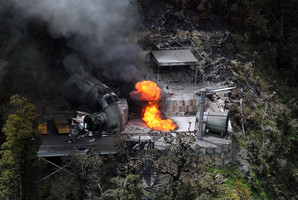 A meeting between the Government experts and international experts hired by Pike River mine families to discuss a way to recover the bodies of the 29 workers killed there is underway.
The risk of triggering explosions has meant the remains of the men have been inaccessible since blasts ripped through the mine in November, 2010.
Today's meeting will take place in Christchurch and will involve a video link to the United Kingdom with three international mining experts to discuss a plan to safely re-enter the mine, Radio New Zealand reported.
Government's experts included the newly- formed High Hazards Unit, Solid Energy and the Mines Rescue Trust.
Last year Prime Minister John Key apologised to the families about the deaths of the men, but maintained a body recovery was unlikely.
- APNZ