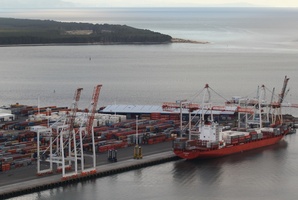 New Zealand shares fell, pushing the NZX 50 to a month-low as Skellerup Holdings and Nuplex Industries missed profit expectations and cut guidance, and Fletcher Building continued its correction following its results on Wednesday.
The NZX 50 fell 43.81 points, or 1 per cent, to 4170.43, the lowest close since January 18. Within the index, 26 stocks fell, 12 rose and 12 were unchanged. Turnover was a higher than average $193 million.
Skellerup fell 6.7 per cent to $1.53 after the industrial rubber goods maker reported an 18 per cent slump in first-half profit to $9.5 million, missing expectations, and cut its annual earnings forecast to $20 million.
Nuplex, the specialty chemicals maker, fell 4 per cent to $3.33 after posting first-half profit that more than halved to $11.5 million and cutting its annual guidance, blaming the strength of the currency and weak trading conditions in Australia and Europe.
Fletcher Building, which missed some analyst estimates on weak trading in Australia, fell 3.6 per cent to $8.55.
OceanaGold, operator of the Macraes gold field, dropped 10 per cent to $2.61 as the price of spot gold fell to a seven-month low.
Contact Energy declined 1.9 per cent to $5.30 after parent Origin Energy posted a 34 per cent drop in first-half profit and Standard & Poor's cut its credit rating to BBB from BBB+.
Summerset Group, the retirement village operator, fell about 2 per cent to $2.49 after the Auckland Council turned down its application to build a new village in Hobsonville.
Auckland International Airport was unchanged at $2.705 after posting an 11 per cent increase in first-half profit.
Port of Tauranga, the nation's busiest export port, rose 0.3 per cent to $13.85 after reporting record first-half earnings on increased volumes.
AMP climbed 2.4 per cent to $6.76 after reporting a 2.3 per cent gain in full-year net profit to A$704 million.
Precinct Properties New Zealand, formerly known as AMP NZ Office, rose 2.4 per cent to $1.05, leading gainers on the NZX 50. The property group this week announced an interim dividend of 2.56 cents from 2.5 cents a year earlier.
Vector rose 0.7 per cent to $2.85 after reporting a 10.8 per cent improvement in tax-paid profit for the six months to December 31 to $118 million in a flat economy.