Location, quality rebuild and high-calibre tenant make sound long-term investment.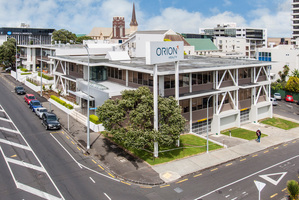 Oyster Property Group has launched its first proportionate ownership scheme for 2013 by offering investors the Orion Health building, known as Orion House, in Grafton.
The multi-level office complex, with more than 4670sq m of net lettable area on a 3003sq m freehold site in a popular fringe CBD commercial area at 181 Grafton Rd, was sold by Orion Health to Oyster Property Group for $21.5 million through Peter Herdson and Andrew Reed of Colliers International.
Orion Health is leasing it back for a 15-year term with three rights of renewal of five years each.
Mark Winter, Oyster director, is now marketing 115 interests in the property at $100,000 each, with a projected initial pre-tax return of 8.47 per cent. The remainder of the settlement price comprises bank funding.
Winter says investors will be attracted to the property's superb location and the recent substantial building upgrade to 100 per cent of new building standard.
Oyster's chief executive, Mark Schiele, says the property was attractive because of its location, quality of refurbishment, calibre of tenant and length of lease - all attributes that make for sound long-term property investment.
"There is no doubt that Orion Health is an exceptional business with strong international growth prospects; a true New Zealand success story. Orion's commitment to the site - with its 15-year lease with three five-year rights of renewal - as well as the further development potential will be attractive to investors."
Ian McCrae, Orion Health's chief executive, said the company decided to sell the property in order to focus on its core business, while retaining the site on a long-term lease.
"Orion Health purchased the Grafton Rd building with the goal of creating an ideal workspace featuring elegant design and maximum functionality for our employees," says McCrae. "We also needed to allow for long-term growth, and so a flexible lease agreement was established for the property to enable expansion over time."
Herdson says the property offers an ideal income-generating investment and the strong sales result reflects the quality of the tenant, the long lease term and the income growth on offer.
"The sale of this prime city-fringe property offers investors significant potential for income and capital growth, through the inclusion of periodic reviews and a long lease to a large multinational tenant," he says.
The facility was constructed as two separate buildings in the 1970s. They joined in the 1980s. It includes basement carparking for 87 vehicles.
Orion Health has undertaken a full-scale rebuild and refurbishment of 181 Grafton Rd since purchasing it in mid-2011.
The building is now rated at 100 per cent of new building standard and provides an attractive open-plan workspace, says Herdson. "The significant rebuilding and upgrade works included seismic strengthening, new aluminium glazed partitioning in the office areas, new carpet in the office areas, polished concrete flooring in the staff kitchen, interior and exterior repainting, bathroom refurbishment and installation of showers, and an upgrade of the building management system."
A cafe with an outdoor terrace on the Grafton Rd side of the building, open to the public, was also installed.
The property includes an external car-parking lot on the corner of Khyber Pass and Grafton Rds, providing potential for future development.
"Orion Health may elect to develop the carpark portion of the property to accommodate future business growth. Initial plans being considered include the construction of a new building on the undeveloped part of the site, incorporating four office floors," says Reed.
"Oyster will be given the first right of refusal to purchase this part of the site if Orion Health elected to sell it."
Further potential development could be achieved by adding a new floor of office space to the existing buildings, creating three office levels.
These developments would enable the Orion Health complex to house more than 1000 staff across about 10,350sq m of floor area.
What's on offer
Property: Orion House, 181 Grafton Rd
Purchased for: $21.5 million
Offer comprises: 115 interests at $100,000 each
Projected return: Initial pre-tax return of 8.47 per cent