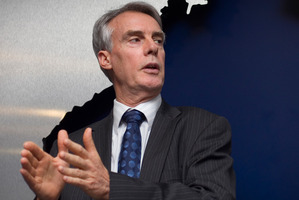 APN News & Media has appointed long serving board member Peter Cosgrove to chairman in the wake of a clearout, which saw chief executive Brett Chenoweth and half the APN board resign on Monday.
More is expected to be revealed when the company reports its annual result tomorrow.
Citi analyst Justin Diddams said little had changed since the forced resignation of Chenoweth, chairman Peter Hunt and directors Melinda Conrad, John Harvey and John Maasland.
"For the moment, I think they can manage, but all the cyclical issues and the structural issues still remain, and the balance sheet is still a bit of an issue, so as an investment thesis it is very difficult to get comfortable with APN," Diddams said.
Core to the board-room bust-up was a fundamental disagreement over whether the company should be raising capital.
Chenoweth, Hunt and the outgoing directors were for a capital raising but Independent News and Allan Gray - who together control 51 per cent of the stock - were vehemently opposed.
Analysts said Allan Gray had lost faith in the management of the company when it last year paid A$66 million ($80.7 million) for brandsExclusive at a time when it was supposed to be paying down debt.
In the absence of a capital raising, Citi still saw the company's capital structure as being "stretched".
The chief executive of APN in New Zealand, Martin Simons said the board and management changes would not change the focus of the company, which was well advanced in revamping its newspaper and online portfolio.
The board had given New Zealand management the scope to be creative with the product suite, he said.
The Herald on Sunday had launched in a new format last Sunday and the last of APN's regional titles would move to compact and morning delivery early next month, he said.
Simons said the New Zealand business was strongly profitable and had started the year well on the back of improving retail sentiment and strong real estate sales.
When APN shares came off a two-day trading halt yesterday, they quickly dipped to a low of A25.5c before bouncing back to close A28c, down 2c from last week's pre-trading halt level.
The debt-laden Independent News & Media, APN's biggest shareholder with 28.95 per cent, is in the throes of selling its South African assets.