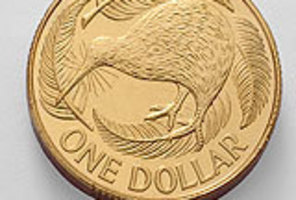 The New Zealand dollar jumped to a post-float high on a trade-weighted basis and is poised for a 1.7 per cent weekly gain after better-than-expected retail sales gave investors yet another reason to buy the local currency.
The kiwi rose to 77.15 on a trade-weighted basis from 76.88 on Thursday, and climbed as high as 77.46, surpassing the mid-2007 level when former Reserve Bank governor Alan Bollard intervened in currency markets.
The kiwi jumped to US85.07c from US84.80c in the morning and US84.74c on Thursday and is heading for a 1.8 per cent weekly gain against the greenback.
Government figures showed the volume of New Zealand retail sales advanced 2.1 per cent in the final three months of last year, surpassing economists' expectations and triggering a fresh wave of demand from buyers of the local currency.
The kiwi has become a favourite among investors as New Zealand's economy is expected to grow with interest rates more likely to rise than fall, giving bigger and safer returns than elsewhere.
"The kiwi is a steam-train and no one wants to stand in front of it," said Mike Jones, currency strategist at Bank of New Zealand in Wellington. "It is fundamentals that have got us here and the fundamentals should keep improving."