A Pakaraka property with approval for further subdivision offers many options for a creative buyer.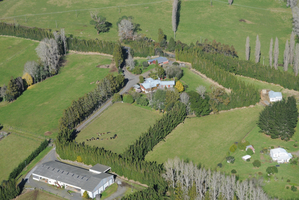 A Northland rural commercial property, occupying a prominent highway position an hour north of Whangarei and previously planned as the site of a motorhome village, has been put up for sale.
The property at 7012 State Highway 1, Pakaraka, about 20km south of Kerikeri and close to the junction with SH10, is in two titles totalling just more than 6ha.
Alan Broadbent of Bayleys Kerikeri is marketing the property, which will be auctioned on Friday, February 22, unless sold prior.
The property was originally set up as a dairy farm in the 1960s before being converted to orchard blocks with supporting packing shed and coolstore facilities.
"It is owned by Martin and Diana Visser, who garnered a groundswell of support for their plan to create a motorhome village on the site back in 2010," Broadbent says.
"The Vissers got well down the track with the concept before putting it on hold. However, the plan may still have legs if a laterally thinking buyer wished to pursue it.
"It would be the first purpose-built motorhome village in New Zealand and approved plans were in place for it. On the drawing board were freehold building sites for villas aimed at semi-permanent residents to own and live in when not touring or travelling overseas," says Broadbent.
"The thinking behind it was to create a place where people could live affordably and securely while sharing workshop and storage facilities for their motorhomes."
The land has approval for further subdivision and offers multiple development possibilities.
"Approval is currently in place for the first stage of a three-stage subdivision into residential lots of [about] 2000sq m," says Broadbent. "Much of the infrastructure for this development is already in place with some established internal roading, underground power and telephone, and a reliable water supply."
He says the land is gently sloping, with mature trees and shelter creating an attractive backdrop for the buildings and future developments.
A new owner has the options of proceeding with the residential subdivision, using all the facilities towards one major commercial activity, or retaining a chosen area of land and selling the balance.
There are two dwellings on the property - a generous two-level, four-bedroom family home with a tidy self-contained flat on the ground floor, and an adjacent cottage-style workshop/studio, with approval to be converted into another dwelling.
"The wild card in the mix is the 1200sq m former coolstore/pack-house building with an additional mezzanine area and upstairs accommodation," says Broadbent.
"In the Visser's original motorhome village concept plans, this building was to have been the linchpin as it has capacity to store up to 16 motorhomes at any one time.
"Quite feasibly, however, this huge shed could have appeal as a recreational venue, a covered equestrian centre, an indoor market or even a training facility."
Broadbent says a range of grazing or growing options are available for the fertile pasture land if productive usage is on a new owner's radar.
"Established markets at nearby Kerikeri and Paihia, and at Whangarei, are within easy reach of this property if lifestyle farming or horticultural angles are pursued."
Mark Macky, director of Bayleys in the North which has five Northland offices, says renewed vigour in the Northland property market was observed at the close of last year.
"With a widely-tipped 'flight to the north' now likely as buyers are priced out of the heated Auckland market, development opportunities are once again coming under the spotlight in the Northland area," Macky says.
"Agents in the region are reporting the highest levels of sales, new listings and buyer inquiry than they've seen in at least four years."
What's on offer
Property: 6ha in two titles
Where: 7012 SH1, Pakaraka, Northland
Features: Previous plans for motorhome village; approval for residential subdivision
Agency: Bayleys Kerikeri
Sales method: Auction Friday, February 22, unless sold prior.