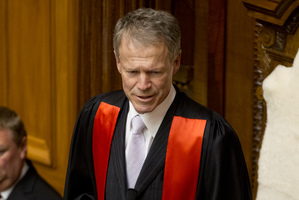 BANKING ON TENNIS
It's interesting to see shots of Auckland included in ANZ's lavish TV advert trumpeting its support for the Australian Open tennis tournament. In this city, of course, tennis is more often associated with one of ANZ's rivals, the ASB.
BRIGHT RETIREMENT
Lockwood Smith's departure as Speaker will also see the retirement of Beryl Bright from Parliament. Bright entered Parliament with Smith in 1984 and served us his private secretary, senior private secretary and right hand woman ever since. She has dealt with many of the more eccentric characters - not to say downright prima donnas - who passed through the office with resolute calm. A who's who of the National Party hierarchy, both past and present, is expected to turn out for Bright's farewell bash, to be held at Premier House next week. Meanwhile, Opposition MPs are wondering how Smith's successor, David Carter, will handle the job, and if he will be as willing as Smith to upset his former ministerial colleagues.
INSIDE JOB
PR firm Baldwin Boyle Group (BBG) has been reappointed to advise Fonterra for another five years, building on an arrangement that kicked off in the early 2000s, the Insider understands. BBG staffers actually sit inside the Fonterra structure, but are regarded as external public relations advisers to the co-op. However, the Insider also understands that Louise Nicholson, who joined BBG in 1994, will be crossing over to Fonterra management to take up a corporate relations role.
LOOSE LIPS
The Cabinet Office is taking care that ministers do not mis-speak themselves as they prepare for the partial float of some SOEs. Orders have gone out that ministers should not advise anyone to buy, sell or hold securities. People with long memories may recall that the old Securities Commission held an investigation of then-PM Helen Clark when, at the prompting of a journalist, she agreed with suggestions that shareholders in Air NZ should hang on to their stocks as her Government prepared to bail out the plummeting airline.
RENOVATION NEEDED
New Housing Minister Nick Smith will be keen to come up with fresh ideas to take the pressure off the housing market - and fight back against Labour and the Greens - after his predecessor Phil Heatley felt the axe. With Bill English making noises about forcing councils to free up land, Smith might look to Britain, where there is even more pressure for new housing stock. Radical changes are being proposed to the planning regime, including allowing developers to convert office buildings into blocks of flats without needing permission from councils. Whether New Zealanders, and in particular Aucklanders, are willing to giving up their dream of a stand-alone home is another matter.
PEOPLE PERSON
Human resource managers are seldom the most-appreciated of people, but Air New Zealand may have hit on a new way to get HR bosses some love: newly appointed Australian Lorraine Murphy has been given the title "Chief People Officer". Murphy has been working in the United States for Campbell Soup, where she had the more traditional tile of "Vice President Human Resources - International". In that role she helped manage more than 20,000 employees.
BERNIE'S BOOKS
Now for sale on eBay: the personal library of mega-fraudster Bernie Madoff. An enterprising trader, who claims to have bought the books in a US Marshals auction of Madoff assets, is offering 110 volumes at a buy-now price of US$1100 ($1306). It's an eclectic selection, though in hindsight some of the titles do offer an insight into the Madoff mind, such as The Executive's Guide to Modern Manners, Rules of Prey, or Harm's Way. Another eBay auction is offering an even more telling ex-Madoff book: the Philip Roth novel Deception.
STILL WAITING
As the heavy hitters of business and finance assemble in Davos, Switzerland, the Reuters news agency has assembled a handy list of incorrect predictions made at past meetings of the World Economic Forum. The Insider's favourite, from Microsoft boss Bill Gates in 2004: "Two years from now, spam will be resolved."