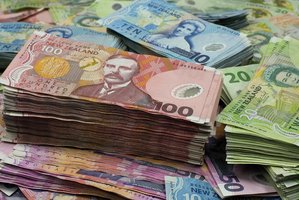 A foreign exchange trader is alleged to have stolen more than $837,000 from investors - including family and friends.
Rene Alan Chalmers, a 42-year-old teacher from Pukekohe, appeared at the Auckland District Court today to face 15 charges including theft by a person in a special relationship and making false statements to investors.
The charges relate to him trading in foreign money and allegedly misleading investors.
The Serious Fraud Office (SFO) also alleges Chalmers misled banks when applying for mortgages for three Bay of Plenty properties.
One of the properties, an apartment in Mt Maunganui, is listed as having views of Tauranga and a CV of more than $500,000. A second apartment bought by Chalmers in the same building has a CV of $338,000.
The third property is a five-bedroom house in Pahoia, about 30 minutes' drive from Tauranga. The five-bedroom home with pool recently sold for $1.195m.
During his brief court appearance yesterday, Mr Chalmers' lawyer Paul Mabey QC said his client was not ready to enter a plea.
Mr Mabey asked the court if he could accompany his client to the criminal counter to sign the bail bond, to avoid Chalmers having to go into the cells.
Community Magistrate Rebecca Ewert told Chalmers he had to hand over his passport to court staff and was not to work as a foreign exchange dealer or financial advisor while on bail.
He is due back in court next week.
According to the SFO, Chalmers and his wife moved to the United Arab Emirates where they worked as teachers. They returned to New Zealand in 2011.
Within a year Chalmers' company - Chalmers Cameron Investments Ltd - had been put into liquidation, owing investors US$5 million (NZD$5.94m).
The SFO launched their investigation after receiving complaints from investors.
Chalmers is also charged with issuing false reports to investors and overstating the company's worth by $4m.
Outside court, Mr Mabey said it was too early for him and Mr Chalmers to comment.
- APNZ