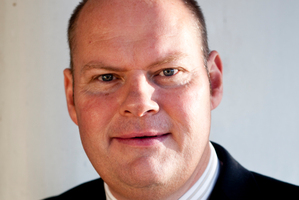 TVNZ news and current affairs boss Ross Dagan is leaving the state broadcaster amid growing pressure to make more profits and the launch of his new 7pm show Seven Sharp.
Bill Ralston, a previous head of news and current affairs at the broadcaster, said Dagan killed off Seven Sharp's predecessor Close Up and created the new show under threat of current affairs losing the 7pm timeslot.
TVNZ journalists were surprised at the sudden resignation of Dagan, hired just 10 months ago to shake up the newsroom.
"Ross was a good guy, and anybody who talked to Ross knew he was not a happy camper there," said Ralston.
Ralston said Dagan had worked in commercial TV but he doubted Dagan was "experienced working in an environment like the shark-infested waters at TVNZ".
Ralston said that according to his contacts in the newsroom Dagan was under pressure to make shows when management had little interest in current affairs.
"Ross Dagan did Seven Sharp because he was told that current affairs would lose the 7pm timeslot if he did not get rid of Close Up and attract younger hip viewers."
Dagan would not take calls yesterday and TVNZ could not be reached for comment. A well-placed source told the Herald the new 7pm show launching on February 4 would be the legacy of Dagan's 10 months in the job "for good or bad".
Dagan told staff yesterday: "I am sorry to let you know that for personal family reasons I have decided to resign from TVNZ to take up a position that's been offered to me at the Seven Network in my home city of Brisbane.
"I am thoroughly enjoying my role as head of news and current affairs and relish the opportunities it continues to provide me ... After much soul searching, I have chosen to take this path. I appreciate that it is absolutely inconvenient timing and for that I am genuinely sorry."
TVNZ said it had begun an executive search for a replacement but there was no indication of an interim appointment.
Chief executive Kevin Kenrick rejected a suggestion Dagan was leaving amid profits pressure from the marketing department and TVNZ over news values. TVNZ was committed to quality news and current affairs, he said.
A source said Dagan's biggest success had been ensuring the survival of the current affairs show Sunday when there had been pressure for the programme to be axed.