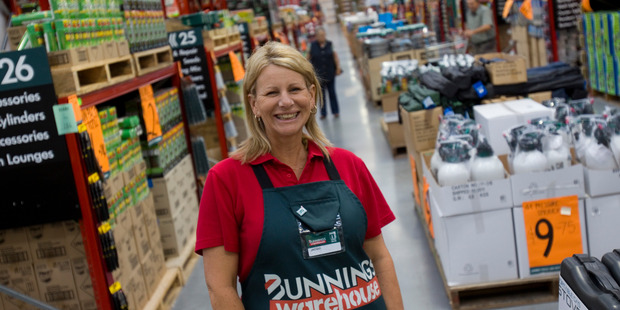 New Zealand's DIY market battleground is to get 14 new stores from two of the biggest players, including a 1.2ha giant site in New Lynn.
John Hartmann, Mitre 10 chief executive, said this week his chain would build eight new Mega stores before the end of this year, investing an estimated $160 million in the growing sector.
Jacqui Coombes, Bunnings chief executive, last year announced five new stores but since then the chain has revealed plans for its biggest Auckland outlet - a multi-level 1.2ha New Lynn giant with vast underground carparking on a sloping site.
A Mitre 10 spokesman said some products were particularly popular.
"Fans are ahead of average sales for this time of the year," he said.
DIY customers, including builders and contractors, are also taking advantage of the extremely dry Auckland building season.
"A lot of gib and cement is going out too. In tools, it's cordless drills - just about every home would have one - dual action saws with counter rotating blades and the multi-tool you see advertised on TV," he said.
"In the garden centres, it's black petunia bumblebee and the Campari tomato along with potted colour. Compost is going off pretty well and lawnmowers."
Hartmann said building product sales rose 23.4 per cent last month on December 2011, hardware and gardening sales were up 7.6 per cent and renovation and decor product lines up 6.5 per cent.
Mitre 10 has a North Island big-store growth focus, aiming to head off Bunnings in a turf war one developer said was like supermarkets, based purely on footprint.
"The only way these businesses can really grow their market share and profits is to get more stores on the ground," he said.
Of the eight Mega stores planned, only Queenstown has been announced.
In August, the Environment Court approved a new Mitre 10 Mega store at Frankton Flats near the site where the consent for a Pak'n Save supermarket was being appealed. The proposed single-level 6249sq m Mega building on a 1.82ha site is surrounded by non-rural land and had a formed legal road running through it.
Mitre 10 opened its 33rd and 34th Mega stores at the end of last year in Hornby and Rotorua.
Locations of the other seven have not been announced because either resource consent had yet to be sought, had been applied for but not granted, or the business was not in a position to reveal further details of expansion, the spokesman said.
"But all seven are in the North Island and in a mixture of cities or provincial centres," he said.
Bunnings had 48 stores at the end of last year, including Bunnings Warehouses, smaller format stores and trade centres. Bunnings has announced plans for six new stores, targeting high-growth areas Silverdale, Takanini, Hawera, New Plymouth and Blenheim.
The New Lynn multi-level store will have a level of carparking beneath the building, taking advantage of the site.
Coombes said 2010 revenue from New Zealand operations was $541.6 million, operating profit $20.8 million but the net result after interest and tax was a $2.3 million loss. That turned around in 2011 on revenue of $585.9 million and operating profit of $19.1 million, returning a $2 million net profit.
But Fairfax reported this month Bunnings had booked an annual loss from its New Zealand operations of $2.6 million for the year ended June 30, after a $1.9 million net profit previously, according to Companies Office records.
Store Wars
Bunnings
* Announced plans for six new stores, targeting high-growth areas such as Silverdale, Takanini, Hawera, New Plymouth and Blenheim.
* A multi-level 1.2ha New Lynn giant will have vast underground carparking.
Mitre 10
* Eight new Mega stores planned, with seven for the North Island.
* Has only disclosed plans for Queenstown.