Timaru woman says allegations of investors being misled tie in with what she's believed 'just about from day one'.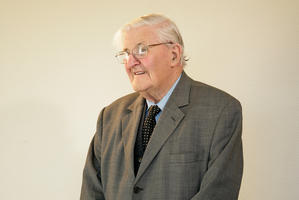 Claims that late Timaru businessman Allan Hubbard misled investors came as no surprise to those still waiting for money out of his collapsed financial empire.
The allegation was made in a 2011 report by former National Bank chairman Sir John Anderson and insolvency expert Rod Pardington that was released last year and partially censored.
But more detail from the document, which contained the claim against Hubbard, was released by the Ministry of Business, Innovation and Employment yesterday.
The report looked into the progress of Allan and wife Jean Hubbard's statutory management, which began in 2010 after an investor complained he/she had not received a prospectus from Aorangi Securities - which was a fund under the Timaru financier's control.
While the Hubbards at the time were trying to get their affairs taken out of statutory management, the report said this should not happen until the pair's assets and liabilities were determined.
When looking at Allan Hubbard's position and the risk of terminating his statutory management, Anderson and Pardington said one of the matters influencing them was "misleading representations to investors".
Neither of the report's authors was available for comment yesterday.
Although Hubbard's poor record-keeping and unsystematic filing has been well-cited, few commentators have alleged misrepresentation to investors. A source from the financial industry said some people preferred to see Hubbard in a positive light because he was dead.
The South Canterbury business identity died after a car crash in September 2011 while facing 50 charges laid by the Serious Fraud Office.
But Timaru investor Melva Gould said yesterday that she was not surprised by the report's claims. "I've known that just about from day one."
Gould said she and husband Peter still had nearly all their savings tied up with Aorangi Securities.
"We're just living hideously. We've got to sell our house. We've been married since 1965 and this was everything we've had," she said.
Another investor, John Rodger, said he was pleased the claims about Hubbard had come out.
Aorangi's 400 investors are facing the prospect of significant losses because Jean Hubbard is disputing the ownership of $60 million of the $96 million which statutory managers believe belong to the fund.
A High Court hearing to determine who owns the assets was due to take place last October but was put off until May.
When asked about the delay Gould said: "We've had an absolute gutsful."
Aorangi investors have to date got back $14.5 million, or 15c in the dollar.
If the $60 million of assets were to be available to Aorangi investors, then returns would be close to 100c in the dollar.
The Hubbard saga: Where to next
At stake: 400 investors in Hubbard fund Aorangi Securities may face big losses depending on the outcome of a High Court wrangle.
The case: Jean Hubbard is disputing the ownership of $60 million of assets with Aorangi Securities' statutory managers.
When: It was originally due to take place in October last year but is now scheduled to happen in May.