Christopher Luxon says the airline will get an extra plane for main trunk ahead of schedule.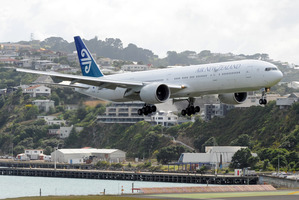 New Air New Zealand chief executive Christopher Luxon says the airline's domestic fleet will be boosted by an extra A320 aircraft this year as he focuses heavily on its network within this country.
The airline is introducing the A320s to replace its Boeing 737s and in a newsletter to staff yesterday Luxon said it would introduce three new A320s instead of the planned two into the domestic fleet.
This would help increase capacity and, because the A320s are more fuel efficient, help lower costs in the domestic operation, a lucrative part of Air NZ business.
Late last year domestic rival Jetstar added another aircraft and 600,000 more seats a year to its main-trunk flying here.
Air NZ said in 2009 it was buying 14 new Airbus A320 aircraft, to replace its 737-300s.
Luxon said Air NZ's performance in the domestic market was "an area of critical focus for me in 2013.
So expect to see our efforts to be the number one choice for even more leisure and business travellers ramp up as the year gets underway."
Yesterday he officially took over from Rob Fyfe in his "dream job".
"Since joining Air New Zealand in 2011 the airline has become far more than a workplace, and more a way of life for me, and for my family. It is certainly a business and a culture that gets under your skin."
He said he was finalising his "Go Beyond" strategy for the airline which would be unveiled in the next two months.
This follows restructuring of the senior executive and leadership teams, although some key roles have yet to be filled.
"Let me assure you what I envisage for our business is evolution, not revolution," said Luxon, who was a Unilever executive before joining the airline.
He said he had increased internal communications capability for the staff of about 10,000 "and placed an enhanced focus on engaging with Air New Zealanders in non-corporate functions, such as cabin crew, pilots, engineers and airports".
Senior leaders would be out among staff more often both at home and abroad.
The airline flew to 28 centres and carried about 84 per cent of the country's domestic travellers.
Luxon said Air NZ supported more than 30,000 additional jobs in the tourism industry, besides its own staff. It bought $900 million of goods and services a year from other New Zealand companies.
Air NZ has said it is making good progress to doubling its underlying earnings this year to $180 million and Luxon said the first six months of this financial year had been "hectic", carrying about 6.7 million passengers throughout the airline.
He spent his first day as boss with technical operations and airport staff at Auckland.