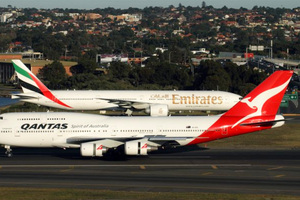 Qantas says it is suffering financial harm while its proposed alliance with Emirates awaits final approval from the competition watchdog.
Qantas has reapplied to the Australian Competition and Consumer Commission (ACCC) urgently seeking interim authorisation on the partnership.
This would allow the two carriers to begin work on areas they see as critical. Qantas's head of legal, competition, Anna Pritchard, said Qantas had suffered significant financial harm from when the proposed alliance was announced in August, and would continue to do so until a final decision was handed down.
The ACCC said in a draft ruling on December 20 it was likely to approve the partnership for five years, with a final decision expected in March.
- AAP