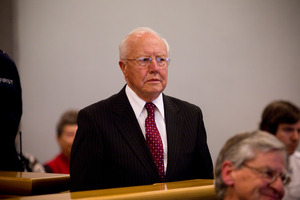 A Court of Appeal ruling means there may be less money to distribute to out-of-pocket Bridgecorp investors if a $442 million civil claim against the failed finance company's former directors is successful.
The receiver of the Bridgecorp group of companies, PricewaterhouseCoopers, alleged that three former board members - Bruce Davidson, Peter Steigrad and Gary Urwin - breached their duties as directors and has filed civil proceedings against them.
Davidson, Steigrad and Urwin have all been convicted in a criminal case brought by the Financial Markets Authority of making untrue statements in Bridgecorp offer documents.
The three directors have also been involved in an insurance stoush. Last September, the trio went to the High Court in a dispute with PwC over access to a directors and officers' insurance policy that has a limit of $20 million. The policy, taken out with QBE Insurance, indemnifies them against liability they might incur as a result of their actions as directors.
It also provides cover for costs they might incur in defending certain proceedings.
But PwC claimed they had a "charge" over the money payable and were concerned that if the directors could access the funds for defence costs, there would be less insurance money available for investors under the insurance policy.
After hearing the case last year, Justice Graham Lang declared that the charge applied, which prevented the directors from having access to the insurance.
Steigrad then went on to appeal against that decision in September, and the appeal was allowed yesterday by Justices Mark O'Regan, Terence Arnold and Rhys Harrison.
"The declaration made by the High Court is quashed," the Court of Appeal justices said yesterday.
The directors can now make a claim with QBE for defence costs for the criminal trial they have been through and also for the civil proceedings they still face.
While this decision plays in the Bridgecorp directors' favour, it does not necessarily mean the trio will be paid out by QBE.
The Herald sought comment from QBE but the company did not return calls. If defence costs are paid out it would reduce the amount in the policy available to distribute to investors if PwC wins its civil claim.
Lawyers for PwC Murray Tingey and David Friar indicated yesterday's decision would likely be appealed to the Supreme Court.
The Court of Appeal decision also dealt with an insurance issue involving former Feltex directors.
This stated that Eric Houghton, who represents 3100 Feltex shareholders taking a class action against a number of former directors, was not entitled to a charge over a Feltex insurance policy that would block the defendants from accessing it.
* An earlier version of this story, which incorrectly stated that yesterday's decision "would be" rather than "would likely be" appealed to the Supreme Court, has been changed.