NZX 50 drops 0.5 per cent as Goodman Fielder and NZ Refining get ready to leave index.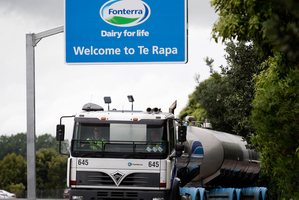 New Zealand shares fell as investors continued to take profits, foundation investors in Infratil reduced their holdings, and previously top 50 stocks prepared to leave the index.
The NZX 50 fell 20.53 points, or 0.5 per cent, to 3974.73. Within the index, 30 stocks fell, 11 rose and nine were unchanged. Turnover was $147.5 million.
However, the newly tradeable non-voting Fonterra Shareholders Fund units topped $7 for the first time, up 3.7 per cent to $7.01 after listing at $5.50 on November 30.
After a strong run-up, in which the NZX 50 has doubled gains on Australian and American benchmark indices, it appeared some investors were taking profits, said Shane Solly at Mint Asset Management, an investment fund manager.
In addition, food producer Goodman Fielder and New Zealand's only refinery, NZ Refining, were about to leave the NZX 50 index and were down 4.7 per cent and 2.5 per cent respectively to 81c and $2.54.
Across the Tasman, there were notable gains in the stocks of the region's two largest newspaper publishers, APN News & Media and Fairfax.
APN rose 7 per cent in ASX trading to A30.5c. While dual-listed, the share rarely trades on the NZX and was quoted yesterday at 38c.
Fairfax rose 11.3 per cent in afternoon trading, at A54c, an increase of 26.3 per cent for the month, albeit still down 39.2 per cent on the year as a whole.
On the local bourse, interests associated with the Morrison family, Morrison & Co and the firm's chief investment officer Lib Petagna sold 10 million shares in the Wellington-based Infratil to institutions and high net worth investors.
Morrison & Co and the Morrison family did not disclose what price they sold at, but Petagna sold 1 million shares for $2.25 million, or $2.25 apiece. That is a 4.3 per cent discount to Wednesday's trading price. The shares closed down 3.8 per cent at $2.26.