After a nine-week trial jury decides owners and managers of Switched On Gardener were not guilty of organised crime but chiefs headed firm that knowingly supplied dope-growing products.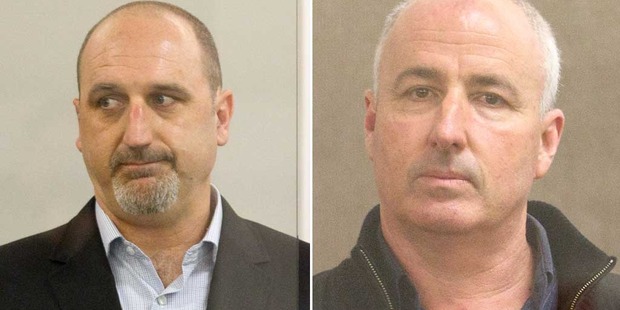 Peter Bennett (left) and Michael Quinlan were found guilty of dealing in cannabis-growing equipment. Photo / Greg Bowker
Something looking suspiciously like a cannabis leaf was in the company's logo, while its shops sold filter systems to mask the smell of the drug and bongs to smoke it.
But the owner and managers of Switched On Gardener insisted they were unaware what the products they sold were being used for - and denied police claims their chain of stores was the "cornerstone" of the cannabis industry.
The question of how much they did know - and to what extent they were prepared to turn a blind eye - is what jurors in the Auckland District Court trial grappled with this week.
After a nine-week trial, 1500 pages of evidence and 14 hours of deliberations, the jury yesterday found them not guilty of the most serious charge, participating in an organised criminal group.
But the jury found Switched On Gardener owner Michael Maurice Quinlan and general manager Peter John Bennett headed an operation that knowingly supplied cannabis-growing equipment including filters, lights and a fertiliser known as "Budzilla" to cannabis growers.
The pair were found guilty of 16 charges each of supplying equipment or material and Bennett was found guilty of an additional charge of possessing equipment.
Three others, business development manager Ricky Cochrane, distribution manager Andrew Barry Mai and the South Island manager, Paul Kenneth Barlow, were acquitted of all charges. More than 25 staff have been convicted of drugs charges but the Crown said the drug offending went right to the top of the chain of command.
The Switched On Gardener venture began in the early 1990s when Michael Quinlan and his brother opened the first store in the West Auckland suburb of Henderson.
From those modest beginnings sprang a business that eventually expanded nationwide with 16 stores and an annual turnover estimated to be $10 million. It was a legitimate business where people went to work and were paid, and tax returns were duly filed by the company owner.
Bennett said up to 14,000 customers a month passed through its doors.
There were big warehouses and offices in West Auckland and it is said to have paid Quinlan and his wife a good income - they live in a mansion overlooking Auckland's Hauraki Gulf - while Bennett controlled up to a million dollars through the company accounts on Quinlan's behalf, further evidence of success.
The business also advertised in magazines, on the radio and on television - advertising the Crown said allowed it to reach out directly to cannabis growers.
But police disagreed it was a legitimate business. After a two-year operation they raided the Switched On Gardener chain in April 2010 as part of a nationwide crackdown on cannabis, where the black market is estimated to be worth nearly $200 million a year.
At the time Deputy Police Commissioner Rob Pope said police had strong evidence the businesses were compliant in supporting cannabis growing on "a sophisticated scale".
But after the verdicts yesterday Quinlan and Bennett's barrister, Paul Davison, QC, said the overarching message from the jury was that Switched On Gardener had not operated as a criminal business.
"It's certainly the more serious charge because that has the implications of a business which is being run for the purposes of using criminal activity to exploit profit."
Their families were devastated by the guilty verdicts despite the acquittal on the most serious charge. Mr Davison said Quinlan and Bennett would have the Christmas period to "take on board" the verdicts and consider the sentences they could receive.
"They defended the charges because they believed they were not guilty and the verdicts are a disappointment to them."
At trial, the Crown argued cannabis was at the heart of everything Switched On Gardener did. The Crown said the "whole ethos, the business model of SOG revolved around cannabis".
The view advanced in court in the case against the defendants was that the Switched On Gardener operation was structured so it was aimed at cannabis growers and, despite selling growing equipment which was technically able to be used legally, the firm sold such items knowing they were to be used for cannabis.
The Crown said the police investigation, codenamed Operation Lime, was begun when conversations undercover police officers had with staff and some managers proved that staff knew exactly what advice they were giving.
Three of the undercover police pretended to be interested in setting up a shop called The Green Room which planned to source equipment from Quinlan's Hydroponic Wholesalers company and operate out of Greymouth.
Some talk captured by listening devices was of the Switched On Gardener clientele - split between legitimate customers and those growing cannabis; Bennett suggested there were a lot of people growing because of the recession but the company was getting more legitimate customers too.
In a separate conversation, Cochrane estimated the legitimate customers could be about 5 per cent of the total. And talking about the books they had for sale, he said, "They're all about that but they don't say it ... but this one's got like a big bud on the f****** cover, you know. It's pretty obvious what this store does."
Other evidence police said pointed to proof of what was really going on at Switched On Gardener was its lack of security cameras. Like many other businesses it had problems with thefts and burglaries, yet it did not have surveillance in place.
When an agent asked why, he was told it would put customers off and the police could access it for evidence.
As he summed up, Judge Gus Andree Wiltens said the Crown case was that the drug activity went on with the permission of the bosses or with them turning a blind eye.
Judge Andree Wiltens said the defence case was that the only illegal activity was occurring at the bottom of the business structure, and bosses could not be held responsible.
On Monday before jury members began deliberating, the judge told them it was important to put aside any feelings they had about cannabis use and the laws New Zealand had concerning the Class C drug.
"Some people may not like the fact that possession of cannabis and the consumption of cannabis is against the law, but it is ... Regardless of whether you might like the fact - it is illegal."
However, the jury decided that Switched On Gardner was not an organised criminal operation at the core of a cannabis conspiracy.
And despite the long investigation and public scrutiny, 14 of its stores remain in operation.

- additional reporting: Edward Gay