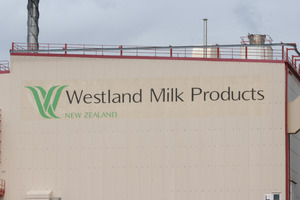 Westland Milk Products will not follow Fonterra and open up its business to private investors, despite a voracious appetite for protein-related assets, says chief executive Rod Quin.
The Fonterra Shareholders Fund, which gives investors access to the co-operative's dividend flow, had an explosive debut on the share market last week, with the highly-sought units trading initially at a 21 per cent premium to their issue price.
Quin said Westland - one of New Zealand's top 100 businesses with turnover over $530 million - will set up a review of its constitution, which has not changed in 10 years.
As it stands, Westland shares have a nominal set price of $1.50 each. Quin said there may be a recommendation that could see the price increase, in time, to $2 or $2.50.
By February, the company's Hokitika plant will have been converted to produce formula on a large scale.
- APNZ