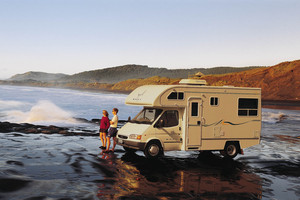 In a sign of the times motorhome rental operator Tourism Holdings is setting up RV supermarkets in Auckland and Christchurch.
The company, which had the Maui and Britz brands, merged with KEA Campers and with United Campervans and Sales in a deal which came into effect at the beginning of the month.
Tourism Holdings chief executive Grant Webster said rental companies had sold surplus vehicles before but not on this scale. The Albany "super centre" opens on Friday and vehicles will sell for up to $175,000.
The merged company had about 2400 vehicles, which he said was about 500 too many, given subdued demand from traditional markets in Britain in Europe.
At the company's annual meeting yesterday, Webster said that during the past four years its New Zealand rentals had underperformed with the exception of last year when the business was helped by the Rugby World Cup.
He said the merger addressed the most significant challenge facing the company - the low level of earnings in the vehicle rental business. The $69 million merger allowed the company to cut costs by avoiding duplicating resources and activities. Synergies would save the company $4.4 million a year.
Although the merger was just four weeks old Tourism Holdings had achieved property synergies ahead of target. The United property in Auckland was under a contract already and the Christchurch United and KEA properties had attracted strong interest and should represent savings earlier than planned.
Chairman Keith Smith said last year's operating earnings before interest and taxation, excluding a goodwill write-down, were $16.3 million. Most of the gain was due to operational improvements realised during the year. Operating cash flow was strong, up 144 per cent to $22 million.
The US-based Road Bear operation - bought in 2010 - had exceeded expectations. However, the Rugby World Cup contributed at least $4.5 million to 2012 earnings before interest and tax to the New Zealand rentals business.
"Deprived of this one-off boost, the outlook for the 2013 financial year and beyond for this part of our business was less than satisfactory," Smith said.
Webster said the outcome for the current financial year was still highly dependent on the performance in core European and UK markets where growth prospects were not bright.
The outlook
*THL's operating profit to rise to $19.3 million in 2013 and $28.8 million in 2014.
*Half-year's ebit to be between $4.2 million and $5 million.
*Well down on last year due to merger costs and Rugby World Cup contribution.