Multiple options for prime Tauranga spot.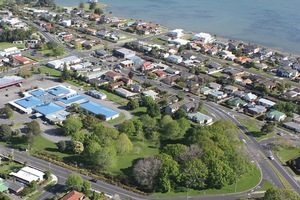 Abig land site, adjoining a proposed new Countdown supermarket in Otumoetai, Tauranga, and currently occupied by the Bureta Park Motel, has been placed on the market.
The flat, regular-shaped property, at 44 Bureta Rd, is for sale by expressions of interest closing on December 7 unless it is sold before the deadline date.
The 1.42 ha site presents an "outstanding development opportunity," says Duncan Woodhouse of Colliers International in Tauranga, who is marketing it with Hamilton-based colleague Ross Lowry.
"Provided the relevant consents are applied for and obtained, this property has great potential to be developed into a mixed-use commercial project to complement the proposed supermarket and shops planned for next door," Woodhouse says.
The land is currently zoned for residential use, which would make a medium to high-density housing development one of the most obvious possible future uses of the site, he says.
"The site could suit townhouse or apartment projects and, as such, we expect to receive inquiries from developers looking at various residential options."
However, although commercial and mixed use is not currently consented, this could also be a possibility if the appropriate permissions were obtained by the purchaser, Lowry says.
"Given the location, service-oriented commercial developments such as a childcare or medical centre could be well suited to this property, as well as offices and convenience retail," he says.
With its present residential zoning, the property's location, in a well-established suburban area close to the central business district, could make a housing development viable. "The site is only two kilometres from downtown Tauranga, making it ideally placed for higher-density housing aimed at couples and smaller families which require easy access to the central city."
Lowry says that, with the site being offered via expressions of interest, if particular interest was received from a buyer who only wanted to acquire part of the site, it could be subdivided to accommodate two or more occupiers on separate titles.
Major roading projects completed in recent years have significantly improved access between Otumoetai and the Tauranga central business district, says Woodhouse.
"New lanes added to the Tauranga Harbour Bridge and a major junction connecting the bridge to the Takitimu Drive expressway, have opened up this part of town, with the off ramp from the expressway making it now much easier and quicker to get to the CBD from Otumoetai."
The success of the Bay Central large format retail hub on Chapel St, between Bureta Park and the CBD, has proven the viability of this part of town for commercial developments, he says.
"Retailers have been attracted to the demographics of this area and its established population," Woodhouse says.
Tauranga is one of New Zealand's fastest-growing cities. The city's population stood at around 115,800 last year and could rise to 168,400 by 2031, according to Statistics New Zealand data.
Simon Clark, chief executive of Colliers International's Tauranga office, says low interest rates are providing a boost for the city's commercial property market.
He estimates the office has sold 20-25 per cent more commercial property this year compared with last year.
"Tauranga is popular because it has been identified as a growth area. Locally there may be some doom and gloom around kiwifruit disease Psa and the slowing of the residential market, but Tauranga is a really nice place to live."
Colliers International's latest commercial property investor confidence survey showed Tauranga/Mt Maunganui was again among the country's most optimistic centres, with a net 19 per cent of respondents expecting positive times ahead for the commercial property market.
Vital statistics
On offer: 1.42ha site adjoins planned Countdown
Address: 44 Bureta Rd, Otumoetai, Tauranga
Feature: Commercial project potential
Sales method: Expressions of interest
Deadline: Dec 7 at Colliers Tauranga office.