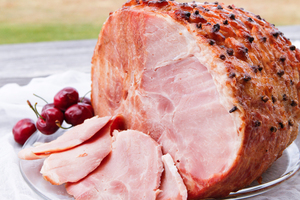 The price of hams is expected to rise again next year.
People wanting to serve New Zealand ham at their Christmas dinner should order early or they may miss out, the pork industry says.
The warning comes amid predictions of a global pork shortage and news of a drop in New Zealand production of up to 30,000 pigs.
Some suppliers have already raised prices by up to 30 cents a kilo and the retail price is predicted to rise even more in the new year.
Globally, the production drop has been caused by rapidly rising feed prices, which have led to European herd sizes dropping by up to 13 per cent and the North American breeding herd hitting its lowest level in years.
In New Zealand, pig farmers have had to contend with cheap imports undermining their prices as well as the rising cost of feed, leading to a 10 per cent decrease in the size of the breeding herd.
Pork New Zealand chief executive Owen Symmans said people should order early to make sure they had a locally grown Christmas ham: "My advice to customers is to get in early and order now."
Christmas hams were always in demand, however the production drop would exacerbate that, Mr Symmans said. People would probably be able to buy imported pork products from supermarkets, though it might not be of the same quality.
"If people don't get in early, they'll get an inferior product."
Alan Wright, of Cherrywood Butchery in Tauranga, said pork prices would "definitely increase" because of the domestic and global shortage.
Pork imports had fallen because of the shortage in Europe and the US. However, New Zealand butchers had placed their Christmas orders months ago and should be meet the seasonal demand, he said.
"I'd be very surprised if people can't get a ham. People would be guaranteed to be a ham from the Cherrywood Butchery."
The latest New Zealand Pork newsletter says imported pork made up 45 per cent of the product in New Zealand retail outlets.
- APN News & Media