Economists say weaker than expected sales sign of slowing economy.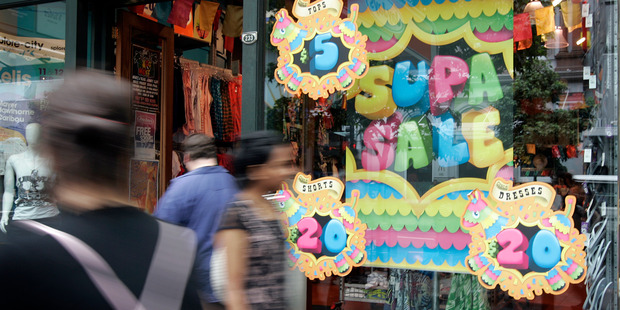 Weaker-than-expected retail sales data, coupled with last week's unexpectedly poor unemployment number, have provided more evidence that New Zealand's economic growth probably slowed in the September quarter, say economists.
Retail sales - a pointer for gross domestic product (GDP) - fell in value by 0.8 per cent in the September quarter compared with the June quarter, and by 0.4 per cent in volume terms, Statistics New Zealand said.
The data, which follows on from news that unemployment hit 7.3 per cent in the September quarter, provided more fodder for those who argue that the Reserve Bank's next move should be a rate cut, rather than a rate rise.
The perceived change in the growth outlook helped shave 40 basis points off the value of the New Zealand dollar from US82c to US81.6c.
Westpac economists said the data provided more confirmation that the economy slowed in the September quarter after showing stronger-than-expected growth in the first half.
"Indeed, at this point we can probably consider the third quarter a write-off," they said. "It's clear that quarterly GDP growth will be weak, quite possibly negative - with the question now being whether this is the start of a new trend," they said.
The retail data ran counter to electronic card transaction data, which have shown modest gains in recent months and which increased by 0.4 per cent in September.
Economists had expected a modest improvement in GDP growth over the September quarter but yesterday's release sent them scurrying to revise their forecasts down to a flat or slightly negative outcome.
"The data suggests that the economy, broadly, was not doing as well as people had generally thought," Deutsche Bank chief economist Darren Gibbs said.
"It ties in with the employment data, which suggests that GDP will be weak, with a chance of a contraction in the September quarter," he said.
While the retail data did not tally with electronic card data, it appeared to back the picture provided by the BNZ-Business NZ performance of manufacturing index, which showed manufacturing activity shrank for the fourth month in a row in September.
Yesterday's retail data, with last week's jobs number, will be of added concern to the Reserve Bank, which said in October that it expected inflation to head back towards the middle of the target 1 to 3 per cent and that an official cash rate of 2.5 per cent "remained appropriate".
"For them the labour data last week will be more disturbing than this retail number because it will change their view as to how much slack there is in the economy," Deutsche Bank's Gibbs said.
He said it offered scope for the Reserve Bank to delay rate increases further and increased the potential for the bank to consider rate cuts.
"There is not going to be a tightening in the next 12 months and I would like to see the Reserve Bank cut rates and to basically get cheaper credit out to business," he said.
Statistics New Zealand said the fall in retail sales was led by three of the largest retail industries, with less money being spent in supermarket and grocery stores (down 1.6 per cent), motor-vehicle and parts retailers (down 1.8 per cent) and fuel retailing (down 1.9 per cent).
Retail sales
* Down 0.8 per cent by value in the September quarter.
* Supermarket and grocery stores down 1.6 per cent.
* Motor-vehicle and parts retailers down 1.8 per cent.
* Fuel retailing down 1.9 per cent.
- APNZ