Network claims extending coverage to include Obama's election victory speech shows commitment to news.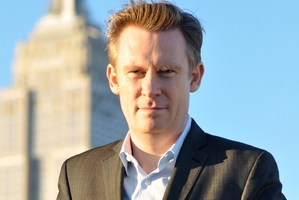 TV3 says its coverage of the US election on Wednesday - knocking back a scheduled entertainment show to run Obama's acceptance speech in full - illustrates chief executive Paul Maher's commitment to news and current affairs.
But given his legacy of diminished independence from marketing from a past role at TVNZ, some will be wary of his promotion which now sees him oversee shows such as Campbell Live and 3News.
Maher was head of sales and marketing at TVNZ until midway through this year.
The arrival of Maher is ironic for TV3 News which is on a high after this year's TV awards.
It's expanding into new areas of current affairs while TVNZ looks for some direction.
Maher and TV3 head of news and current affairs Mark Jennings say that beyond new initiatives such as Third Degree - the replacement for 60 Minutes - the commitment is not changing.
In my opinion, coverage of the US election on Wednesday showed the different approaches.
Campbell Live gave extended coverage from 7.30pm and Obama's acceptance speech was shown live and in full.
TVNZ said it stopped its coverage of the speech with only two minutes to go and with hindsight it would have been ideal to hang on, but that's one of the hazards of live television.
"In the event we got the important bits, the close was largely obscured by applause and crowd noise," says spokeswoman Megan Richards.
MAHER AND NEWS
It was bizarre when Maher took over TV3 without news and current affairs under his wing - it makes up around 40 per cent of TV3 production output.
News boss Mark Jennings initially reported to MediaWorks managing director Sussan Turner.
The Herald queried reports the arrangement had ended. Turner issued a statement that from next year news would report directly to Maher and not to her.
Significant structural changes are expected at MediaWorks.
The firm - which owns TV3, Four and reaches half the commercial radio audience - was bought by Ironbridge Capital in 2007 for $790 million as part of the leveraged buyout boom.
Ever since it has been weighed down with debt.
US hedge funds Texas Pacific Group and Oaktree Capital Management stepped in to take over debt this year.
They have been working with equity holder Ironbridge Capital to swap debt for equity.
Maher played an international senior role with media buyer Publicis Starcom and at TVNZ, where he missed out on the CEO job.
I expect he will be a part of the new world order at MediaWorks, when that emerges.
EXTRA MILE
I'll be blasted by TVNZ contacts for being biased. But in my opinion, if you relied on free to air television, TV3's local coverage of the US election was better.
TV One's Jack Tame has been solid in the US - including Superstorm Sandy. He actually does proper interviews but elsewhere TV One's coverage seemed half-hearted.
Political editor Corin Dann was parachuted in just before the big night, while TV3's Paddy Gower delivered some original watchable, dare I say it, gonzo style of journalism.
News events like this inevitably end up featuring a lot of time-filling chit chat, but I didn't feel like there was much expert opinion from Simon Dallow, Mark Sainsbury and Tim Wilson or Obama-friendly Jon Johansson for that matter.
Wilson gave his insights as a former US correspondent for One News.
He has the ability to be very funny, but I'm not sure he delivered any insights, I may have missed it but I did not see any mention from TVNZ that Wilson - its core presenter for the US election - is an advertising executive at TVNZ.
He makes infomercials for TVNZ's "The Extra Mile" featuring Wallace Chapman, a series that pretends to be news and runs inside or adjacent to news bulletins or current affairs.
Wilson may have a valid opinion as a contributor, but he should not carry the credibility of One News.
Asked whether the use of an advertorial executive for such a central role was appropriate in a news special, Television New Zealand news and current affairs boss Ross Dagan said: "We have a valuable resource ... who has covered many US elections.
"From the viewers' perspective we're confident his expertise in this particular context will be appreciated irrespective of the kind of work he's doing elsewhere for TVNZ."
RASCH CAREFUL
Perhaps one problem facing TVNZ is that it lacks a depth of presenters.
That is illustrated with Wilson rumoured as a contender to present the new 7pm show.
Other names being mentioned include Pippa Wetzell, and most recently Kate Hawkesby.
One of the problems facing TVNZ has been the speculation the new show will be lightweight - more like 7 Days than CampbellLive.
So there was surprise this week when TVNZ named Raewyn Rasch as executive producer.
Rasch is producer for Marae Investigates and has previously been executive producer of Fair Go.
She has a reputation for being conservative, which seems an odd choice for an innovative new show. Maybe it indicates TVNZ will continue to treat current affairs seriously.
HILL ON TOP
Kim Hill is the 2012 International Radio Personality of the Year. The Association for International Broadcasting (AIB) announced the winners of its annual global media excellence awards at a gala event in London yesterday.
Simon Morton was highly commended in the radio documentary category for his Christchurch earthquake programme, Broken River.
IGLOO TO UNFREEZE?
Igloo meets on November 19 to decide whether to launch the pay TV platform before Christmas.
The joint venture is 51 per cent controlled by Sky TV and 49 per cent by TVNZ, with the service a mixture of terrestrial UHF, delivering 11 linear channels, and access to broadband movies.
Igloo was originally planned to launch in July but software problems from set-top box manufacturers Pace have led to several delays.
Igloo has missed the strategic point of digital switchover in Hawkes Bay and the West Coast, and there have been concerns that extended delays will undermine the brand.
A source said that some at TVNZ were wary of the initiative after the debacle over TVNZ's investment in TiVo.
It is understood that TVNZ representatives have taken the conservative stance to delay the launch, but Igloo should be on sale by Christmas.
PR IN MEDIA
Another public relations man has been appointed to a state broadcasting organisation.
Broadcasting Minister Craig Foss announced the appointment of former Dominion editor Richard Long to the board of Television New Zealand.
He has a career in journalism spanning more than 30 years, including a prolonged esteemed period as political editor of the Dominion, a paper he later edited.
Long joins Barrie Saunders, a principal of the lobbyist firm Saunders & Unsworth, appointed by National.
For a time, Long was chief of staff for Don Brash.
Meanwhile, Foss is looking to fill two vacancies on the board of New Zealand On Air with the end of the terms of Stephen McElrea and Nicole Hoey.
McElrea is a senior official in the National Party and famously created controversy when he attacked TV3 for running an NZ on Air documentary about child poverty close to the election.
Another PR man in state media, is former Jim Bolger press secretary Richard Griffin who is chairman of Radio New Zealand.