Lower labour costs and cultural similarities give Kiwi call centre a competitive edge, says Telnet founder.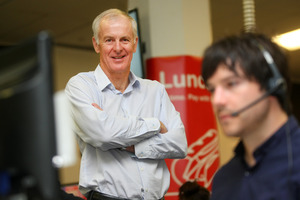 There is an upside to the New Zealand currency playing second fiddle to the Australian dollar.
It makes our labour costs far lower, and when paying staff represents two-thirds of a business' expenses, it can give New Zealand companies a real advantage.
That's the reasoning of John Chetwynd, founder of the country's largest private call centre company, Telnet.
"At the present time we have two clear advantages - labour rates and the exchange rate," Chetwynd says.
"We have a competitive advantage against Australia of at least 30 per cent on cost."
Although Australian businesses can go to popular call centre destinations like Manila for their outsourced call centres, there are cultural differences. New Zealanders and Australians, on the other hand, have much in common, says Chetwynd.
When Australians talk about outsourcing to New Zealand, they call it nearshoring, as opposed to offshoring, which is more palatable to critics of the practice.
Telnet, which has passed the $10 million dollar turnover mark with 200 staff operating from its central Auckland headquarters, would like to double in size and Australia is Chetwynd's preferred option for achieving this.
Having tried putting people on the ground in Australia and sub-contracting for other Australian call centres, Chetwynd is now looking at growing across the Ditch through acquisition.
The Australian business would be the "shop front" for Telnet, but Australian clients would be talking to its call centre in Auckland's Queen St.
The businessman, who ran debt collection company Credit Corp when it floated in the early 1990s before merging with Baycorp, has always been struck by a comment made by Bill Gates.
"He talked about being able to see a business at twice the size. I can see Telnet being twice the size.
"We would consider a float," he adds. "I think the trigger point for that is if we can double the size of the business again."
Telnet launched formally in 1997, with Chetwynd and some money "thrown in" from investors at the American software company Telnet. Chetwynd got to know the American business when it had provided Baycorp with call centre technology.
These days Chetwynd and two senior staff have about a 56.5 per cent shareholding. Chetwynd's share is more than 43.5 per cent, while Pat Maxwell, the original US investor, also has 43.5 per cent.
Telnet NZ uses a computer-telephony software platform supplied by Zeacom and has been adding its own applications.
It prides itself on the reduced talk time of its call centre agents with customers. The company's clients include Mercury Energy, Vector and Sony Mobile.
The company also provides a cloud-based customer relationship manager (CRM) service.
One of Telnet's clients, Z Energy, has been using the CRM system for two years to assign tasks either to outsourced contact centre staff or to its in-house specialists.

Best achievement
I finally closed the deal to work for Sony Mobile Australia from the top of a chairlift at Whistler Blackcomb ski resort in Canada in January 2007. We guaranteed that we would improve on the average talk-time that they were achieving and have gone on to steadily improve the numbers for them beyond the initial commitment.

Top tip
Take time to sit in on recruitment sessions. It does two things: you will win over people who you may not normally have hired and you are able to paint the bigger picture for them. "We have 200 staff. Being involved in recruitment is the most important thing I do these days."