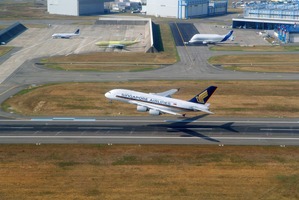 Air New Zealand's stake in Virgin Australia has been diluted following the issue of shares to Singapore Airlines but it is not clear whether this country's carrier will top it up.
As part of a series of deals announced this week, Singapore Airlines took a 10 per cent stake in Virgin following the issue of new shares.
Air New Zealand has 19.99 per cent of the company before the issue of new shares and has the option of buying more shares to retain that stake.
The airline's group general manager Australasia Bruce Parton said: "We've not formed a public view on it yet. Obviously we have the right to."
Air New Zealand built up its shareholding in Virgin Australia last year, partly to gain a presence in the Australian domestic market.
United Arab Emirates airline Etihad has a 10 per cent stake in Virgin which will also be slightly diluted.
As part of an offensive against Qantas, Virgin Australia issued new shares to Singapore Airlines for A$105 million, using most of those funds for a proposed 60 per cent stake in low-cost carrier Tiger Airways to take on Jetstar.
It also will buy all of regional carrier Skywest Airlines.
Parton said Air New Zealand regarded the deal as a good one.
"From an investor perspective we have a lot of confidence."
The Tiger deal is subject to regulatory approval and competition issues have been described by the Australian Competition and Consumer Commission as "very complicated".
Virgin Australia chief executive John Borghetti said the deal was part of Virgin's aim of being the airline of choice in every sector of the market.
Borghetti said, "Virgin competes with a lower cost base."