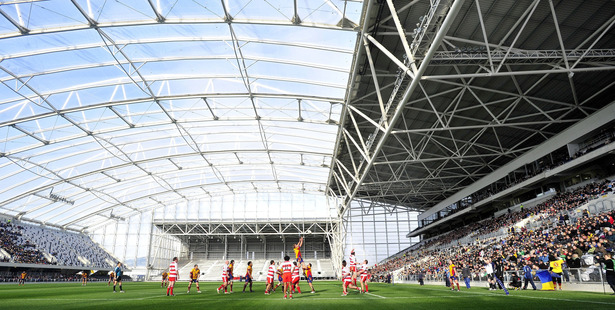 Forsyth Barr Stadium's finances are not sustainable, says Dunedin Mayor Dave Cull. Photo / NZPA
Dunedin Mayor Dave Cull says the Forsyth Barr Stadium's finances are "not sustainable" after confirmation the company running the venue lost nearly $1 million more than expected in its first year of operation.
The result was contained in Dunedin Venues Management Ltd's 2011-12 annual report, released to the Otago Daily Times yesterday , which showed the company lost $3.2m in its first year.
That was $814,000 worse than the $2.4m loss forecast in May, when DVML's revelations of a half-year, $1.9m loss prompted the council to launch a review of the entire stadium operation.
The loss was largely fuelled by the nearly $4m in rent DVML was required to pay to Dunedin Venues Ltd, the separate company that owned the stadium, to cover loan servicing costs.
However, the results showed DVML would have made a loss of $302,000 even if it did not have to pay rent to DVL.
Cull said the council had not been anticipating "a great result", but the final figures were worse than expected.
"It's not sustainable. There's no doubt about that."
That made the review of the stadium and DVML all the more pressing, and getting "a good result" even more important, he believed.
"There's all sorts of possibilities could come out of the review, and I mean all sorts.
"Anything could change."
Questions about DVML were referred to board member Peter Hutchison, who said the results were "a disappointment", but insisted the company remained in start-up mode and results would improve in time.
The results reflected delays staging some events, and others that failed to eventuate, but also the "pretty typical" frustrations of a new venue in its first year of operation, he said.
"It was a disappointment to everyone, including the board, that we kept on having that frustration."
Asked why the result had deteriorated since May, he said that was due to a "combination of factors" which could not be detailed at short notice.
However, one example was a delay moving the media suite from the south stand to the north stand - a switch that, through increased television coverage of advertising hoardings, provided more revenue to DVML, he said.
The company was also continuing to struggle against the impact of the global economic downturn, which had fuelled a drop-off in the events market, meaning less revenue than expected from concerts, he said.
"It's pretty difficult to achieve a result when you have a market and an economy that's going backwards," he said.
The performance of the Highlanders and the Otago I™ Cup rugby teams had been highlights for the venue, but it was not yet known whether DVML made a profit from the I™ Cup, he said.
If it had, it would be small, he said.
In future, Dunedin needed an events fund to compete with other centres fighting to lure big concerts and other events to the city, he believed.
"If the city wishes to see leading concerts in the city then there has to be a way to attract those concerts, and that's about money.
"At the moment, those types of incentives simply don't exist here," Mr Hutchison said.
It was a point raised by DVML's former chief executive, David Davies, before his departure, and one Cull said was to be considered as part of the stadium review.
Hutchison insisted the company was capable of recording a small operating profit, and was forecasting one for next year, but only before rent was paid to DVL.
The nearly $4m rent was "a pretty big number for a stadium to meet", but whether the arrangements were sensible was a matter for Dunedin City Holdings Ltd and the council to consider as part of the review, he said.
"It is my understanding that that is one of the components of the review."
Whether the company could ever pay rent and make a profit would be "a tough ask", but there remained ways DVML could improve revenue streams, he said.
A profit could be achieved, "but it's going to take time".
A copy of Dunedin Venues Ltd annual report was also released yesterday, and showed the company that owned the stadium - and received rent from DVML - recorded a $4.312m loss for the same period.
Hutchison cautioned against adding the two losses together, as they overlapped, and because DVL's results were largely accounting losses - not cash - and expected.
"It [DVL] is behaving exactly as it should do."
Council finance and resources general manager Athol Stephens also defended the results yesterday, saying the first year of operation had been "hardly a normal year" for DVML.
The report covered the year from July 1, 2011, but the stadium was not handed over to DVML until August 5, and then almost immediately taken over - together with its revenue - for last year's Rugby World Cup, he said.
That meant lost income on top of the disruption of feeling out a new venue, and the real test would be results from the first full year of operation, he believed.
"That's the context in which the performance has to be placed."