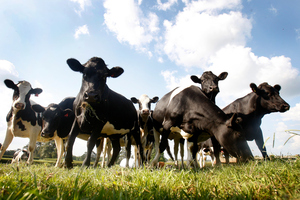 A farm worker who got a blow to the head when he told his boss "get f***** and stick [your] job" has been awarded 17 weeks lost wages and $4500 compensation by the Employment Relations Authority.
Tony Cleaver had been working on Tony Hall's farm since December 2010 before his employment ended abruptly in the milking shed about 11 months later.
In his determination, Christchurch authority member Alastair Dumbleton said two men got into an argument when Cleaver asked for a pay rise, which Hall rejected.
"Cleaver] claims that a remark he made as to what his father had said he would have told Mr Hall to do (get f***** and stick his job), led Hall to tell him he was fired."
When Cleaver retorted "I'll see you in court" Hall responded "I'll make it worth it", sprang on him and struck him on the head and chest.
He ordered Cleaver and his family to vacate their house on the farm by the end of the day.
Hall was charged with assault and, despite denying the attack, was convicted by the District Court. An appeal to the High Court was unsuccessful.
Mr Dumbleton said assaulting an employee could "rarely if ever" be justifiable.
He dismissed Hall's evidence that Cleaver had mistreated a cow before the incident, and that he had failed to warn him that milk was spilling to waste.
He ordered Hall to pay his former employee $45,000 for hurt feelings, humiliation and distress after being "dismissed abruptly and assaulted, and through having himself and his family put out of their accommodation with virtually no choice".
Cleaver was to be further reimbursed for 17 weeks lost wages for the time it took him to find another job.
- APNZ