Low interest rates here and abroad lifting interest in high dividend yield markets.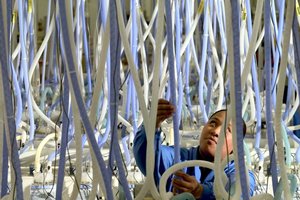 New Zealand shares rose yesterday, pushing the NZX 50 Index above 4000 for only the second time since January 2008, as low interest rates at home and abroad lifted the appeal of returns from equities in markets known for their relatively high dividend yields.
The NZX 50 rose 16.10 points, or 0.4 per cent, to 4004.26. Within the index, 26 stocks rose, 15 fell and nine were unchanged. Turnover was $120 million.
Telecom gained 0.8 per cent to $2.475 and was the most heavily traded stock. It has a dividend yield of 12.2 per cent, while an average two-year term deposit pays 4.39 per cent, according to interest.co.nz.
Fisher & Paykel Healthcare, which has a dividend yield of 5.2 per cent, rose 2.5 per cent to $2.43, while Freightways, with a yield of 6.2 per cent, rose 2.1 per cent to $4.43.
"It's the same old story - investors chasing yield in the market," said Grant Williamson, a director at Christchurch-based brokerage Hamilton Hindin Greene.
With markets closed on Monday, New Zealand missed out on the effects of a Friday selloff on Wall Street, he said.
Goodman Property Trust rose about 1 per cent to $1.06. It has a dividend yield of 8.1 per cent.
NZ Oil & Gas fell 1.7 per cent to 86.5c after missing out on acquiring a stake in a deepwater exploration permit in the Taranaki basin because the existing partners exercised their right to buy it.
The Wellington-based company has been blocked from buying a 6.7 per cent stake in the 16,380sq km petroleum exploration permit off the Taranaki coast after operator Anadarko and Hyundai Hysco exercised their first-buyer rights.
NZOG had agreed to pay US$9.5 million to the operation's minority partners, Global Resources Holdings and Randall C Thompson.
Among smaller caps, L&M Energy soared 37 per cent to 7.4c after chairman Geoff Loudon made a full takeover bid for the Wellington-based oil and gas explorer at a 45 per cent premium to its last trading price.
Loudon, via his New Dawn Energy, is offering A6c a share to take full control of L&M, valuing the firm at A$45.3 million.
New Dawn has entered into lock-up arrangements securing almost 72 per cent acceptances, but will only declare the deal unconditional if it can take full ownership.
Warehouse Group was the biggest gainer on the day, rising 4.2 per cent to $3.25. NZX, the stock market operator and regulator, rose 3.3 per cent to $1.27.
Fletcher Building rose 0.1 per cent to $7.38. SkyCity Entertainment fell 1.8 per cent to $3.92.